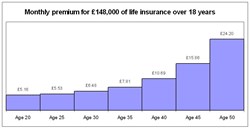 It's cheaper to protect your children with life insurance than play the National Lottery.
Chichester, UK (PRWEB UK) 27 August 2013
Research from the Child Poverty Action Group (goo.gl/EyQgB6) states it costs an average of £148,000 to raise a child to the age of 18 years. And according to research conducted for discount website VoucherCodesPro (goo.gl/VtEI7F), a shade under £150 is lost each year by those who play the lottery.
Michael Ward from life insurance specialist website PayingTooMuch.com comments, "Most parents could provide adequate life insurance protection to cover their children for less than the average amount spent on lottery tickets of £12.50 per month. Given the 1 in 14,000,000 (1 in 14 million) chance of winning the lottery, the life insurance option looks a responsible choice for parents.
"It's a reasonable assumption that in most cases, if a parent dies and leaves a young child then either the surviving parent or grandparents will bring up the child. In either case there is likely to be some severe financial stress as costs for child care increase and earnings are restricted if one parent passes away.
"The cost for each parent to cover themselves with a simple £148,000 of life cover for a term of 18 years, which upon death could be passed to the caring family member to help them bring up the child, is far less than most parents would think."
The chart shows that a life insurance premium for a 30 year old Mum or Dad (as life insurance now costs the same for men and women following the EU's ruling last year), is just £6.48 per month.
So if both parents bought a policy the total of under £13 per month would be around the same as the average lottery player loses each month.
In the event of a death of a parent then the proceeds of £148,000 help to support the child. If both parents were to die together then both policies payout independently providing a payment of £296,000 which could be passed to the child's grandparents.
For more quotes or help to set up a policy visit PayingTooMuch.com.