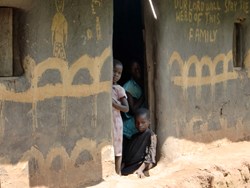 The film will explore the unique challenges of orphaned children as they struggle to recapture lost youth and create a hopeful future in Sub-Saharan Africa.
Mishawaka, Indiana (PRWEB) August 26, 2013
Hospice Foundation today announced that it is heading to Africa to film a new documentary entitled Road to Hope.
Road to Hope will explore the unique challenges of orphaned children after caring for their dying parents in poverty-stricken areas of Sub-Saharan Africa. The film will tell their stories through the lens of caring and supportive people who have emerged, often as unintentional shepherds, to offer love, guidance and support as the children seek to rebuild their lives.
The film will be produced and directed by Hospice Foundation COO Mike Wargo. Wargo's last film, Okuyamba, followed palliative care workers caring for patients dying deep in the villages of Uganda. The critically acclaimed film garnered nods in a number of international film festivals and competitions, including The Indie Fest and Accolade Competition and received both a Best Shorts Award and a Prestige Award in 2012.
Okuyamba was also 1st Runner-Up for Best Documentary Film at the 2012 Vegas CineFest and won a Bronze Telly Award for Social Responsibility earlier this year. It also earned Hospice Foundation and its supported organization, Center for Hospice Care, the highly coveted Zachary Morfogen Art of Caring Award from the National Hospice and Palliative Care Organization in 2012.
Tim Wolfer, of Wolfer Productions, has been signed on as Director of Photography. Collin Erker and Marty Flavin, both graduates of Notre Dame's Department of Film, Television and Theatre will handle sound and lighting and serve as additional camera operators.
The crew leaves Monday for three and a half weeks of filming in Uganda, Kenya and South Sudan. For further information, and to follow the crew's blogs from Africa, check out the film's website at http://www.RoadToHopeFilm.com.