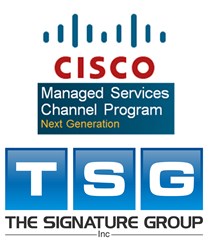 Vienna, VA (PRWEB) August 26, 2013
THE SIGNATURE GROUP INC (TSG) has been congratulated by the Cisco Channel Certification Team for meeting all criteria and passing a thorough ITIL based audit to become re-certified as a Cisco Cloud and Managed Services Master Partner Worldwide.
By achieving the Managed Services Channel Program (MSCP) Master certification, THE SIGNATURE GROUP has proven our ability to sell and deliver Cisco-based Managed Services through a world class Network Operations Center (NOC) and offer the very highest management practices rated in the industry. THE SIGNATURE GROUP, as a Managed Services Master partner, has established a well-defined service delivery practice based on ITIL Foundations processes, practices, and tools supporting Cisco Advanced technologies at all phases of the lifecycle: Prepare, Plan, Design, Implement, Operate, and Optimize.
"We value the commitment and expertise that THE SIGNATURE GROUP has demonstrated and look forward to a continued, successful partnership," states the Cisco Partner Certification Team. In recognition of this achievement, THE SIGNATURE GROUP will be identified as a Cisco Master Managed Services Partner in the Cisco Partner Locator located at: http://www.cisco.com/go/partnerlocator/.
THE SIGNATURE GROUP, as a Cisco Managed Service Providers, is a leader in providing solutions for large and growing markets and deliver efficient, cost-effective, and reliable managed networks, servers and applications that allow customers to focus on the core aspects of their business.
"THE SIGNATURE GROUP is known for providing the highest level of quality to our clients, especially those with very complex needs requiring cutting-edge skills. TSG provides world class solutions that are focused on five key tenets for our clients; Increase Revenue, Reduce Cost, Mitigate Risk, Maximize Operational Efficiency and Increase Customer Satisfaction & Retention. This certification is just another confirmation of the Culture of Excellence that TSG delivers to our clients," remarked Rich Dobry, Executive Vice President of The Signature Group, Inc.
For more information regarding THE SIGNATURE GROUP, please visit http://www.teamtsg.com/.