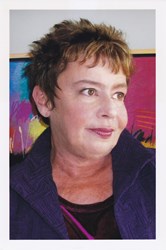 The strength of the Warrior Spirit inside of you is stronger than any adversity. - Dolores M. Miller
Philadelphia, PA (PRWEB) August 27, 2013
Dolores M. Miller, poet and author of the Beautiful Warrior Writings is nominated for the Eagle Rare Life Award. Ms. Miller is recognized for her work as a child advocate and fundraiser.
As a child advocate, adoptee, and survivor of childhood abuse, Dolores wants to leave this world a better place… especially for children.
For thousands of children in Philadelphia, the story is one of horror and trauma. These children are involved in Philadelphia's child welfare system. They are victims of abuse and neglect; children without a voice, but with a story to tell. The Support Center for Child Advocates will put the award money towards helping more children who have been neglected and abused, by providing legal counsel and providing a voice for those who cannot be heard.
Dolores has given of her time and treasure in many measurable ways:

Dolores is a significant donor and participant of the Support Center for Child Advocates of Philadelphia
Co-Chairperson of Million March Against Child Abuse Philadelphia
ChildHelp USA Volunteer
Marches against Breast Cancer and raises funds for research
Coordinates care with the Multiple Sclerosis Society
Supporter of Dominick's Law in PA
Supporter of Let Go Let Peace Come In
As an accomplished author, poet, and advocate who draws on her experience to help children find a better life, Dolores is a true survivor and warrior. She has turned her pain into passion. In her writing she strives to convey the power of the human spirit to overcome adversity, the beauty of nature and God's healing love. Dolores gives much assistance to those in need.
"Dolores has generously donated the proceeds from the sale of her books to the Support Center for Child Advocates. Dolores is a constant presence in the holiday Toy Drive, she once collected so many toys that she had to rent a storage facility to hold them all! Always the 'Beautiful Warrior', Dee has dedicated her life to making a difference and she does it one person at a time. Dolores has turned her generous gifts of hope, compassion, time and treasure to make a difference into a rewarding source of beauty, love and healing for the community… and the world." - Frank Cervone, Support Center for Child Advocates
Words from Dolores: "I strive to reach out to all people, to inspire and provide health, healing and spirituality... my healing words can touch deep inside, to the fibers of the soul. If you keep believing - even in the most difficult of times, you will rise above. As I write of God's healing love, hope, courage and the beauty of nature; I reach out to suffering souls, so they may find the power to heal and become all they were meant to be. The strength of the Warrior Spirit inside of you is stronger than any adversity."
To read more of her story and vote for Dolores M. Miller, visit http://www.eaglerarelife.com/content/dolores-m-miller, scroll to the bottom of the page, click "Vote for this Story". Voters may vote once per day.