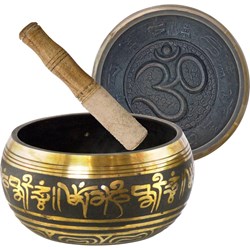 Canaan, VT (PRWEB) August 25, 2013
Meditation has been practiced in many cultures throughout the ages. It is a powerful personal transformation process that clears the mind, improves focus and concentration, reduces stress and improves overall health and well-being on all levels. The New Age Source encourages you to improve the quality of your meditation practice with these top products for enhancing meditation.
The experts at The New Age Source selected these great gifts for cleansing and clarifying your sacred space and opening up to higher awareness and expanded consciousness.
Singing Bowls: Enter a tranquil, state of relaxation with the pure sound vibrations of these embossed singing bowls. Tune into the OM, the sacred breath of life that frees the mind from fear and promotes a sense of oneness with all creation. The New Age Source is a top provider of beautiful, high-quality singing bowls direct from India.
Altar Bells: Brass altar bells are traditionally used to banish negative energy and move positive, restorative energy throughout a sacred space. Prepare for meditation with a finely detailed brass bell featuring an intricately designed copper handle. The beautiful, crystal clear tone will bring clarity and focus.
Tingsha: Tingshas prepare the mind for meditation, enhancing focus and awareness. The gentle tinging sound reverberates softly, cleansing your sacred space. The New Age Source offers tingshas made of bell metal alloy, which provides superior resonating sound quality.
Phurba: This ritual tool has rich symbolism and history according to Buddhist tradition. It is used to cleanse one's sacred space of negative energy and to cut through ignorance, hatred and desire, so that enlightenment may have room to enter. The beautifully detailed brass and copper phurba has an antique finish.
Dorje: The Dorje is a traditional meditation tool that symbolizes the transformational, spiritual experience of enlightenment. It is used for spiritual strength. The sturdy, intricately designed double dorje is made of sturdy copper and brass with an antique finish.
To view more offerings from The New Age Source visit http://www.thenewagesource.com .
About The New Age Source:
The New Age Source is a leading retailer of high quality metaphysical products. The New Age Source strives to offer each customer personalized inspiration to assist them on their path to inner peace and healing. The New Age source offers a variety of tools for meditation that also make excellent gifts. Enhance your meditation experience with top-quality ritual tools including singing bowls, altar bells, and tingshas.