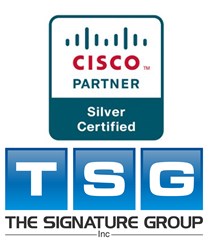 Vienna, VA (PRWEB) August 27, 2013
THE SIGNATURE GROUP INC has once again been congratulated by the Cisco Channel Certification Team for renewing their Cisco Silver Certified Partner in USA. To earn Silver Certification, TSG had to meet rigorous standards for networking competency, service, support and customer satisfaction set forth by Cisco. Our company has demonstrated that it is qualified to sell, install, and support Cisco solutions in USA, while maintaining a high level of client satisfaction.
"Cisco is committed to providing tools, training and programs to help drive partner growth, differentiation and profitability," said Surinder Brar, Chief Strategist of Worldwide Partner Channels Organization at Cisco. "With specializations in Advanced Collaboration Architecture, Advanced Routing & Switching, Advanced Unified Communications, Advanced Unified Computing Technology Specialization & Express Foundation, The Signature Group, Inc. has made an investment in delivering the integrated and customized technology solutions today's clients demand."
The Cisco Resale Channel Program provides partners with the training required to build sales, technical and Cisco Lifecycle Services skills, and then validates their skills through a third-party audit. Cisco resale partner certifications represent an increasing breadth of skills across key technologies and a partner's ability to deliver integrated networking solutions.
In recognition of this achievement, our company will be identified as a Cisco Silver Partner in the Cisco Partner Locator located at: http://www.cisco.com/go/partnerlocator .
"The Signature Group is known for providing the highest level of quality to our clients, especially those with very complex IT needs requiring leading-edge skills and deep experience. Our continued certification in Cisco shows TSG's dedication to Cisco and their World Class IT Solutions. It continues The Signature Group's focus on our Culture of Excellence that TSG delivers to our clients." remarked Rich Dobry, Executive Vice President of The Signature Group, Inc.
For more information regarding The Signature Group, please visit http://www.teamtsg.com