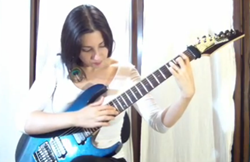 A link in the video description leads guitarists to the sheet music and tabulatures for this riff.
New York, NY (PRWEB) August 25, 2013
In the new guitar lesson, available now on YouTube, Alejandra demonstrates a heavy metal guitar riff from the song "Acid Rain" by progressive rock supergroup Liquid Tension Experiment.
The lesson shows how to play the thrashing guitar riff on a 7-string guitar. While the speed of this style of music may seem daunting to beginners, it's important to note that many of the notes played in this lick are open notes. Open notes can be played on a 7-string guitar without holding the string to the fretboard, streamlining the movement required to play all the notes effectively. Mixing these open notes in the riff makes this a useful lesson for beginners, because it provides an opportunity to practice alternating between open notes and notes played on the fretboard.
Alejandra first plays the riff fast, producing the experimental, speed-metal sound of the original Liquid Tension Experiment song. In the second part of the video, the riff is slowed down to give guitarists an up-close, note-by-note overview of the intro to this progressive metal anthem. Guitar Control suggests playing the riff slow, mastering each note until the technique is mastered, then speeding it up gradually until it sounds the way the instructor - and the original artist - plays it.
A link in the video description leads guitarists to the sheet music and tabulatures for this riff. In this case, the sheet music is a fascinating resource in itself, given the experimental, unique compositions Liquid Tension Experiment is known for.
A guitar instructor for eleven years, Alejandra Mesliuk is an accomplished, professionally educated jazz musician who teaches public seminars, private lessons, and clinics for musicians in Buenos Aires and now worldwide. As a columnist for a number of music magazines, she's written extensively about guitar technique and rock guitar composition. She is currently at work on her first book, Technique and Expression, in which she outlines her techniques for tapping and slap guitar playing.
Her latest works comes with Florida-based rock band A Persuasive Reason, who last month released a self-titled EP, their first.
GuitarControl.com is packed with resources, video tutorials and lessons, articles, and affordable DVDs to help new guitarists learn and experienced guitarists master their instruments. Guitarists of any experience level find guitar lessons from instructors with a broad array of music backgrounds and styles - blues, jazz, metal, classical, folk, progressive rock, punk, and everything in between. Guitarists can find relatable, easy-to- follow videos regardless of their ability or musical tastes.