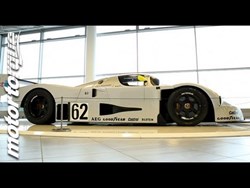 Liverpool (PRWEB UK) 27 August 2013
Mercedes-Benz World celebrates the engineering and technological history of the German Manufacturer, so MotorTorque took a day trip to see what new facts they could learn.
As one of the longest running manufacturers in the world, Mercedes-Benz has become renowned for their pioneering engineering technology and has established itself as one of the world's leading car manufacturers.
MotorTorque took a look at some of Mercedes' most notable cars from their illustrious history and also, got to put some through their paces on the track.
Curious as to where Kris McDonald placed on the time board? Watch MotorTorque's Mercedes-Benz video to find out either on the YouTube channel or the website:
http://www.motortorque.com/videos/uncategorised/mercedes-benz-world-22496.aspx
About MotorTorque.com:
Since 2006 MotorTorque.com has been providing car enthusiasts with exclusive news, reviews, ratings, features and video content related to the auto industry. MotorTorque.com can also provide new car buyers with the best quotes, test drives and brochures for new models from the world's leading car manufacturers.
About The Auto Network:
Formed in 2002, The Auto Network is the UK's leading automotive marketing agency, specialising on lead generation and digital marketing. In the decade since its inception, The Auto Network has delivered thousands of sales, test drives and brochure request leads each month to manufacturers, dealers and the leasing industry. Clients include Vauxhall, Honda, Perrys, Seat and more.
Contact MotorTorque:
Simon McBride,
Editor
MotorTorque.com
1st Floor Beetham Plaza,
25 The Strand,
Liverpool,
L2 0XJ
Tel: +44 (0)844 445 7862
Email: simon.mcbride(at)motortorque(dot)co(dot)uk
Contact The Auto Network:
Richard Wood,
Head of Digital Marketing,
The Auto Network,
1st Floor Beetham Plaza,
25 The Strand,
Liverpool,
L2 0XJ
Tel: +44 (0)844 445 7862
Email: richard.wood(at)theautonetwork(dot)co(dot)uk