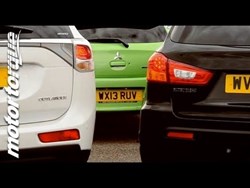 Liverpool (PRWEB UK) 28 August 2013
Cars included in the review were Mirage, ASX, Outlander, Shogun and L200. The Mirage was the only car in the multi-vehicle review which wasn't an off-roader.
Mitsubishi has firmly established its reputation for off-road vehicles. The MotorTorque team were particularly impressed by the L200 Barbarian, as it was a great 4x4 and the loading bed would be great for outdoor enthusiasts.
With the Japanese manufacturer expanding its range further, MotorTorque feel that the SUV will still be its star attraction – not that this is a bad thing. Mitsubishi's popularity is growing more and more in the UK, this video review will help those who aren't familiar with it to gain a better understanding.
The Mitsubishi range review video can be watched on either the MotorTorque website.
http://www.motortorque.com/videos/new-car-reviews/mitsubishi-range-overview-22572.aspx
Ends
About MotorTorque.com:
Since 2006 MotorTorque.com has been providing car enthusiasts with exclusive news, reviews, ratings, features and video content related to the auto industry. MotorTorque.com can also provide new car buyers with the best quotes, test drives and brochures for new models from the world's leading car manufacturers.
Contact MotorTorque:
Simon McBride,
Editor
MotorTorque.com
1st Floor Beetham Plaza,
25 The Strand,
Liverpool, L2 0XJ
Tel: +44 (0)844 445 7862
Email: simon.mcbride(at)motortorque(dot)co.uk