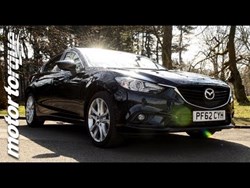 Liverpool (PRWEB UK) 28 August 2013
Mazda's Mazda6 has great looks; it won the Red Dot Design Award earlier in 2013 and is a popular car amongst buyers and enthusiasts alike.
MotorTorque thought that business drivers would find the Mazda6 to not only be a head-turner but be highly practical too, offering the best of both worlds.
It goes up against some stiff rivals such as the Citroen C5 and the Honda Accord saloon, Kris McDonald felt that the Mazda6 was a hot contender and was better than the others as it was fun to drive, functional for everyday life and looked great on the road.
The Mazda6 does, however, have quite a steep price tag. Find out whether or not MotorTorque thought it was worth its price tag by watching the video review on the MotorTorque website.
http://www.motortorque.com/videos/new-car-reviews/mazda6-video-competition-22482.aspx
Ends
###
About MotorTorque.com:
Since 2006 MotorTorque.com has been providing car enthusiasts with exclusive news, reviews, ratings, features and video content related to the auto industry. MotorTorque.com can also provide new car buyers with the best quotes, test drives and brochures for new models from the world's leading car manufacturers.
Contact MotorTorque:
Simon McBride,
Editor
MotorTorque.com
1st Floor Beetham Plaza,
25 The Strand,
Liverpool,
L2 0XJ
Tel: +44 (0)844 445 7862
Email: simon.mcbride(at)motortorque(dot)co(dot)uk