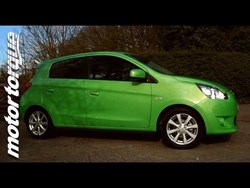 Liverpool (PRWEB UK) 27 August 2013
Sometimes going a little unnoticed, the Mitsubishi Mirage allows the Japanese manufacturer to enter the small car sector and take own the established rivals, such as the Ford Fiesta.
MotorTorque was aware that car buyers and viewers of the YouTube channel would be more acquainted with the likes of the Mitsubishi Outlander and L200 models. Yet the advantage of the smaller car is the running costs.
The Mitsubishi Mirage has a line up of efficient engines, which will lower running costs and also, has an attractive, affordable price tag.
Did MotorTorque find that the Mirage lived up the reputation already forged by the Outlander?
Watch the video review to find out.
You can find the video on the MotorTorque website or the YouTube channel and join in with the team on Twitter @MotorTorque.
http://www.motortorque.com/videos/new-car-reviews/mitsubishi-mirage-review-22598.aspx
Contact MotorTorque:
Simon McBride,
Editor
MotorTorque.com
1st Floor Beetham Plaza,
25 The Strand,
Liverpool,
L2 0XJ
Tel: +44 (0)844 445 7862
Email: simon(dot)mcbride(at)motortorque(dot)co(dot)uk