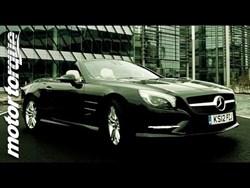 Liverpool (PRWEB UK) 27 August 2013
Fast, polished and oozing class, the Mercedes SL350 is every inch the luxury car. Not technically classed as a sports car, MotorTorque felt the Mercedes-Benz SL350 had a definite sporty feel to it.
It's quick, that's for sure, completing the bench mark sprint in 3.7 seconds. Kris McDonald discovered that it was also a particularly refined ride and handled the road with eloquence.
The MotorTorque team was surprised with the low-running costs of the SL350, which makes the price tag well worth it – especially as it's so well-equipped even on standard trim levels.
Another luxurious, stylish car from the German premium brand, the Mercedes-Benz SL350 impressed MotorTorque.
Watch on MotorTorque.com or the YouTube channel, to see the full review and hear what Kris McDonald and MotorTorque thought of the SL350.
http://www.motortorque.com/videos/new-car-reviews/mercedes-sl350-review-22539.aspx
Contact MotorTorque:
Simon McBride,
Editor
MotorTorque.com
1st Floor Beetham Plaza,
25 The Strand,
Liverpool,
L2 0XJ
Tel: +44 (0)844 445 7862
Email: simon(dot)mcbride(at)motortorque(dot)co()dot)uk