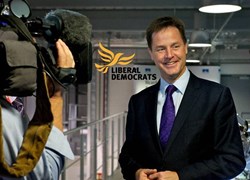 Liverpool (PRWEB UK) 28 August 2013
The political party led by Nick Clegg has revealed plans to only allow ultra-low carbon vehicles in the UK by 2040. Such vehicles include fully electric cars and hybrids.
The policy also specifies that petrol and diesel vehicles will only be permitted for freight purposes. The policy paper is titled: 'Transition to a Zero Carbon Britain Policy Paper.'
http://www.­libdems.­org.­uk/­siteFiles/­resources/­Autumn Conf 2013­/­109 -­ Green Growth an­d Green Jobs.­pdf
In the policy paper, the highlighted line states that "by 2040, only ultra-low carbon vehicles will be permitted on UK roads for non-freight purposes."
If the Lib Dems do pass the motion, then millions of cars would be banned from roads in the UK. However, Eco-friendly cars such as the Renault Zoe, Nissan Leaf and Toyota Prius would no doubt thrive.
In response to the Lib Dem's radical proposal, Paul Watters, Head of Roads Policy at the AA, remarked: "We think such a proposal is premature and needs to be made at a time when uptake of ultra low CO2/no CO2 vehicles shows signs of serious traction."
"We believe hybrids and ELV's will increase in numbers but not to the point where they will be dominant by 2040. If this policy reaches fruition too early it will consign many perfectly good and clean cars by today's standard to an early grave and that would be wrong."
You can read the story and other car-related news, guides and reviews on the MotorTorque website. http://www.motortorque.com/car-news/lib-dems-plan-to-ban-petrol-and-diesel-cars-in-uk-by-2040-23006.aspx
Ends
About MotorTorque.com:
Since 2006 MotorTorque.com has been providing car enthusiasts with exclusive news, reviews, ratings, features and video content related to the auto industry. MotorTorque.com can also provide new car buyers with the best quotes, test drives and brochures for new models from the world's leading car manufacturers.
Contact MotorTorque:
Simon McBride,
Editor
MotorTorque.com
1st Floor Beetham Plaza,
25 The Strand,
Liverpool, L2 0XJ
Tel: +44 (0)844 445 7862
Email: simon.mcbride(at)motortorque(dot)co.uk