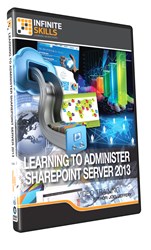 Learn to Administer SharePoint Server 2013 at your own pace, and use as a study plan for Microsoft SharePoint Server 2013 Exam 80-331.
(PRWEB) August 25, 2013
Software training firm Infinite Skills Inc. this week introduced its "Learning to Administer SharePoint Server 2013 Tutorial," a course designed to help IT professionals learn the basic implementation and maintenance of this multi-use web application platform.
SharePoint works in concert with Microsoft Server to create a platform capable of hosting a broad range of web applications designed for non-technical users, providing both large and small businesses and other organizations with capabilities like intranet portals, document and file management, collaboration, social networks, business intelligence integration, and more.
Infinite Skills' Learning to Administer SharePoint Server 2013 provides the technical skills necessary for an on-premise deployment of SharePoint, teaching critical skills which can be used as part of a study plan for the Core Solutions of Microsoft SharePoint Server 2013 Exam 80-331 for IT professionals.
Learning To Administer SharePoint Server 2013 Video Tutorial
Course author Joel Jeffrey currently runs JFDI Phoenix Ltd, a company specializing in SharePoint web application development. He has been using SharePoint since 2001, and began software development in 2002. Jeffery is a Microsoft Certified Trainer, and splits time between training others and developing software solutions for clients.
"SharePoint is a huge program with a huge number of services," Jeffery explains. "But, at its heart, SharePoint is a platform for sharing information."
Jeffery begins with an introduction, explaining the basic structure of SharePoint and a walk-through of a scripted installation of SharePoint 2013.
The course then begins to look at SharePoint solutions and how to implement them, for instance how to create a web app in both the central admin and powershell domains, configuring HTTP settings, and more.
The course moves on to cover basic configuration within an office setting, for instance how to use SharePoint to route email, create a corporate catalog, and begin office web app integration.
Other chapters cover authorization and security, including backup protocols and farm-level security, before moving on to more advanced configuration topics such as the metadata service, the search service, and social networking. With its business intelligence services, SharePoint allows organizations to integrate productivity applications such as Excel and Visio Graphics.
Free demo videos and a full list of course contents can be found on the Learning to Administer SharePoint Server 2013 Tutorial training page of the Infinite Skills website:
http://www.infiniteskills.com/training/learning-to-administer-sharepoint-server-2013.html
Infinite Skills offers its Learning to Administer SharePoint Server 2013 Video Tutorial either as a DVD or a direct download from the company website at a retail price of $99.95. Though some programs, like SharePoint are designed to work with a particular operating system, all Infinite Skills titles and formats are compatible with both Mac and Windows. Shipping is available around the globe.
About InfiniteSkills Inc.
A leader in the field of software training, InfiniteSkills strives to offer the highest quality training available at an affordable cost. InfiniteSkills tutorials are task-oriented instructional videos, teaching complex skills by providing hands-on examples, guiding users as they carry out critical objectives. InfiniteSkills offers a comprehensive range of software titles available as DVDs, digital downloads, and iPad editions, keeping with company aim of delivering professional training to customers anywhere they want to learn.