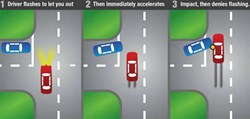 Liverpool (PRWEB UK) 30 August 2013
A twist on the standard 'crash for cash' frauds, the new tactic has been labelled 'flash for crash', with criminals at junctions or fuel stations flashing their headlights to entice innocent drivers into the path of a deliberate collisions.
Automotive anti-fraud investigation specialist APU has stated that this method is more complex than the traditional scheme of roundabout rear-end accidents. It is more complex as the new tactic, in the event of a legal dispute, makes it harder for an innocent party to prove who is actually to blame.
APU says that "some 380 false insurance claims are made daily, costing the motor industry £1.7m a year and pushing up insurance premiums."
Neil Thomas, APU's Director of Investigative Services, commented: "It is yet another example of how criminal gangs are becoming more sophisticated and attempting to stay one step ahead of suspicion."
He continued: "The adoption of flashing headlights and beckoning the driver results in a 'your word against mine' situation when it comes to apportioning blame.
"By appearing to offer the right of way, the criminal simply continues his journey into a collision, holding the victim at fault for turning across him which, of course, cannot be denied under law."
You can read the story and other car-related news, guides and reviews on the MotorTorque website:http://www.motortorque.com/news/look-out-flash-for-crash-tactic-on-the-rise-23079
About MotorTorque.com:
Since 2006 MotorTorque.com has been providing car enthusiasts with exclusive news, reviews, ratings, features and video content related to the auto industry. MotorTorque.com can also provide new car buyers with the best quotes, test drives and brochures for new models from the world's leading car manufacturers.
Contact MotorTorque:
Simon McBride,
Editor
MotorTorque.com
1st Floor Beetham Plaza,
25 The Strand,
Liverpool,
L2 0XJ
Tel: +44 (0)844 445 7862
Email: simon.mcbride(at)motortorque(dot)co(dot)uk