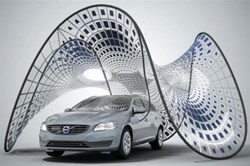 Liverpool (PRWEB UK) 28 August 2013
Range anxiety is rife with electric car users, with numerous eco-drivers concerned about running out of power when out and about.
Apart from Extended-Range Electric Vehicles (E-REVs), what other options are there? That is where Volvo steps in with its new electric 'tent' charger.
Teaming up with Synthesis Design + Architecture, Volvo's new flexible charger utilises both solar panel technology and the convenience of a camping tent.
Cars parked underneath the 'tent' charger will be fully charged in 12 hours and Volvo states that the futuristic-looking technology can be folded up in minutes and weigh the same as an average tent.
Unfortunately, the Swedish car marque also said that the charger will not be available to the public. However, Volvo did add that it plans to reveal the finished product by September 2013.
You can read the story and other car-related news, guides and reviews on the MotorTorque website.http://www.motortorque.com/car-news/volvos-new-tent-electric-charger-22894.aspx
About MotorTorque.com:
Since 2006 MotorTorque.com has been providing car enthusiasts with exclusive news, reviews, ratings, features and video content related to the auto industry. MotorTorque.com can also provide new car buyers with the best quotes, test drives and brochures for new models from the world's leading car manufacturers.
Contact MotorTorque:
Simon McBride,
Editor
MotorTorque.com
1st Floor Beetham Plaza,
25 The Strand,
Liverpool,
L2 0XJ
Tel: +44 (0)844 445 7862
Email: simon.mcbride(at)motortorque(dot)co.uk