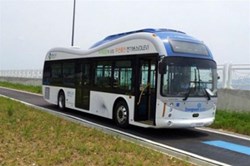 Liverpool (PRWEB UK) 28 August 2013
The Korea Advanced Institute of Science and Technology (KAIST) in Gumi, South Korea, has came up with the new system that enables buses to be charged on the go via cables that run under the road.
KAIST's new system is called Shaped Magnetic Field In Resonance (SMFIR) and utilises cables that sit under the road that, when operating at a specific frequency, create an electromagnetic field.
The resonance created by the cables in the road is then turned into electricity by a coil fitted in the bus, which means that the buses can be powered on the run – eliminating the need to stop and charge.
The city of Gumi in South Korean already has two such buses on the road, but will the UK see some of these soon?
You can read the story and other car-related news, guides and reviews on the MotorTorque website.
http://www.motortorque.com/news/koreas-new-electric-avenues-23040
About MotorTorque.com:
Since 2006 MotorTorque.com has been providing car enthusiasts with exclusive news, reviews, ratings, features and video content related to the auto industry. MotorTorque.com can also provide new car buyers with the best quotes, test drives and brochures for new models from the world's leading car manufacturers.
Contact MotorTorque:
Simon McBride,
Editor
MotorTorque.com
1st Floor Beetham Plaza,
25 The Strand,
Liverpool,
L2 0XJ
Tel: +44 (0)844 445 7862
Email:simon.mcbride(at)motortorque(dot)co(dot)uk