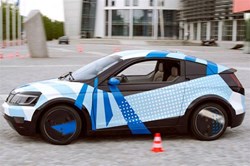 Liverpool (PRWEB UK) 29 August 2013
Although numerous car manufacturers have been trialling fully autonomous vehicles in the USA, scientists in Germany are taking a different path.
Rather than focus on fully autonomous cars, researchers at the Technische Universität München Institute of Automotive Technology have been trialling remote control cars, saying that full-size versions could be on the road within the next ten years.
A spokesperson for the scientists commented: "There is demand for remote control cars. Uses could be found in car sharing through to parking services, delivering vehicles to customers or even sending electric vehicles to their nearest charging point."
During the scientists' current tests, engineers equipped an electric car, dubbed Visio.M, with six video cameras, which are controlled via a central control panel. Images from the video cameras were then fed into a computer and sent to the driver via a wireless connection.
The remote station used is very similar to a racing simulator that you would see in arcades around the country and using the technology is like playing a video game but with a full-size car and on real roads.
Numerous legal hurdles still need to be overcome but it seems that we could see full-size remote control cars on our roads in the coming years.
You can read the story and other car-related news, guides and reviews on the MotorTorque website: http://www.motortorque.com/news/full-size-remote-control-cars-coming-to-a-road-near-you-23012
About MotorTorque.com:
Since 2006, MotorTorque.com has been providing car enthusiasts with exclusive news, reviews, ratings, features and video content related to the auto industry. MotorTorque.com can also provide new car buyers with the best quotes, test drives and brochures for new models from the world's leading car manufacturers.
Contact MotorTorque:
Simon McBride,
Editor
MotorTorque.com
1st Floor Beetham Plaza,
25 The Strand,
Liverpool,
L2 0XJ
Tel: +44 (0)844 445 7862
Email: simon.mcbride(at)motortorque(dot)co(dot)uk