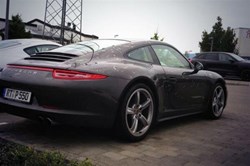 Liverpool, UK (PRWEB UK) 29 August 2013
One unfortunate Porsche dealership in Reutlingen saw many of its 911 models bombarded by what they called "falling shot-puts".
After assessing the damage done to the vehicles, the unlucky dealership had to shave the price off the affected models. Discounts were expected to average around €20,000.
This would mean that a local customer could pick up a discounted Porsche 911 Carrera for €70.417 – rather than its original price of €90,417.
These discounts do raise the question: how much will it cost to make it look brand new again?
You can read the story and other car-related news, guides and reviews on the MotorTorque website:
http://www.motortorque.com/porsche/911/news/all-hail---20000-off-a-porsche-911-23015
About MotorTorque.com:
Since 2006, MotorTorque.com has been providing car enthusiasts with exclusive news, reviews, ratings, features and video content related to the auto industry. MotorTorque.com can also provide new car buyers with the best quotes, test drives and brochures for new models from the world's leading car manufacturers.
Contact MotorTorque:
Simon McBride,
Editor
MotorTorque.com
1st Floor Beetham Plaza,
25 The Strand,
Liverpool,
L2 0XJ
Tel: +44 (0)844 445 7862
Email: simon.mcbride(at)motortorque(dot)co(dot)uk