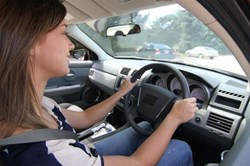 Liverpool (PRWEB UK) 30 August 2013
Although not as well advertised as drinking and driving campaigns, texting behind the wheel can be extremely dangerous and, in some cases, fatal. Over 100,000 road accidents a year are caused by motorists texting while driving.
The survey by AT&T took place in America recently and collected information from 1,200 teenagers, between the ages of 15 and 19 years old.
Although 97% of teenagers agreed that texting while driving was dangerous, as many as 43% of them confessed to doing the deed.
Furthermore, a concerning 61% of teen drivers admitting to glancing at their phone while driving – taking their eyes off the road for vital seconds.
An argument is that the parents of these teens are somewhat responsible, as 41% of those surveyed commenting that their parents text while driving – which would be setting a bad example to them.
Although this study was carried out in America, the universal popularity of mobile phones means that it is a potential issue in the UK.
You can read the story and other car-related news, guides and reviews on the MotorTorque website: http://www.motortorque.com/news/61-per-cent-of-teens-use-phone-while-driving-23036
About MotorTorque.com:
Since 2006 MotorTorque.com has been providing car enthusiasts with exclusive news, reviews, ratings, features and video content related to the auto industry. MotorTorque.com can also provide new car buyers with the best quotes, test drives and brochures for new models from the world's leading car manufacturers.
Contact MotorTorque:
Simon McBride,
Editor
MotorTorque.com
1st Floor Beetham Plaza,
25 The Strand,
Liverpool,
L2 0XJ
Tel: +44 (0)844 445 7862
Email: simon.mcbride(at)motortorque(dot)co(dot)uk