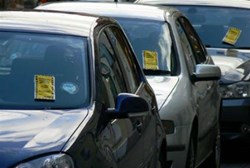 Liverpool (PRWEB UK) 30 August 2013
The study taken by the RAC and published 1st August 2013, also revealed that the huge figure was £54m greater than the previous year's figure.
Although the entire sum is not surplus, with around £151m used for infrastructure and other repairs, it still leaves £412m sitting in the council's coffers.
As might be expected, London areas provide some of the biggest streams of parking ticket incomes. Westminster Council claimed £41.6m surplus in 2011/2012 while Camden Council recorded £25m.
With reports suggesting that the government is considering letting motorists park on double yellow lines for a short period of time, this would see the figure potentially drop dramatically. The report can be found on the RAC foundation website: http://racfoundation.wordpress.com/2013/08/01/councils-make-half-a-billion-pounds-parking-profit/
You can read the story and other car-related news, guides and reviews on the MotorTorque website.http://www.motortorque.com/car-news/councils-make-565m-a-year-on-parking-tickets-22952.aspx
ENDS
###
About MotorTorque.com:
Since 2006 MotorTorque.com has been providing car enthusiasts with exclusive news, reviews, ratings, features and video content related to the auto industry. MotorTorque.com can also provide new car buyers with the best quotes, test drives and brochures for new models from the world's leading car manufacturers.
Contact MotorTorque:
Simon McBride,
Editor
MotorTorque.com
1st Floor Beetham Plaza,
25 The Strand,
Liverpool,
L2 0XJ
Tel: +44 (0)844 445 7862
Email: simon.mcbride(at)motortorque(dot)co(dot)uk