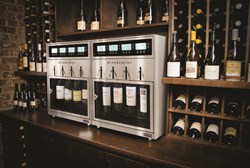 Campbell, CA (PRWEB) August 25, 2013
On Thursday, September 5, 2103, Napa Technology, developer of the WineStation Intelligent Preservation and Dispensing System, will host a webinar for the grocery and retail wine trade. The webinar, scheduled to run one hour, begins at 11am Pacific/2pm Eastern.
Panelists: Ed Cook, Director Beer & Wine, Harris Teeter; Jack Robertiello, Writer, Consultant, Wine & Spirits Judge; Jayne Portnoy, Vice President of Marketing & Brand Strategy, Napa Technology; and Carin Galletta Oliver, Chief Innovation Officer, Angelsmith.
A recent survey commissioned by Napa Technology on trends in retail wine targeted leaders in grocery store and retail environments and was conducted in June and July of 2013 by Angelsmith. The survey turned up some expected results and quite a few surprises about how savvy and novice wine consumers influence the way wine is sold in retail environments. The webinar will identify key findings from the survey, review the evolution of retail wine sales, and provide insights and best practice tips from industry leaders.
To register for the webinar click here.
About Napa Technology: Napa Technology, LLC is a designer and manufacturer of Intelligent Dispensing Solutions for wine that ensures optimum freshness with each pour. The company's breakthrough product, WineStation®, maximizes the profitability of each bottle. Since 2005, WineStation has been adopted by foodservice and retail operators as a new way to serve, preserve and capitalize on the consumer interest in and demand for the good quality wines. For more information on the Napa Technology WineStation visit http://www.napatechnology.com.