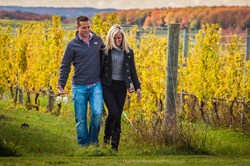 Traverse City, MI (PRWEB) August 27, 2013
The Traverse City Convention & Visitors Bureau has announced that it will offer a menu of "Fab Fall" getaway specials, available at almost 20 participating resorts and hotels. The packages are available for dates from Sept. 6 through Dec. 20.
In addition to low Fab Fall rates, the packages include extras like discount offers on shopping, dining, wine purchases, movies, spa services, golf, entertainment and family fun and more.
The specials must be directly booked through participating hotels. (Just make sure to ask for the Fab Fall special.) For a list of details, including participating hotels, check out the Bureau's web site at http://www.traversecity.com
Many visitors are discovering the enchantment of autumn in Michigan's Grand Traverse Bay region. Fall in this area is a gentler, more romantic season than midsummer -- a time of crisp clear mornings, mellow golden afternoons and cool, lingering evenings. The summer crowds have vanished with summer's heat, and by late September the hills are ablaze with color. (TripAdvisor.com calls it one of America's Top 10 fall foliage destinations!)
Generations of "leaf-peepers" have come to Traverse City on their annual fall color pilgrimages, and their numbers are increasing as new travelers discover that they don't have to give up the pleasures of good food, wine and entertainment to enjoy the beauty of autumn. Thanks to warm Lake Michigan waters, balmy temperatures often linger into November -- perfect weather for a fall shopping adventure, a round of championship golf, or a tour of the beautiful wine country of the Old Mission and Leelanau peninsulas
The region offers almost limitless opportunities for boating, sailing, canoeing, kayaking and fishing, its forests are crisscrossed with trails for hikers, horseback riders and cyclists, and there are over 20 golf courses with spectacular views and stunning configurations. This is Michigan's "Golf Coast," an area Golf Digest named #12 on its list of the World's Top 50 Golf Destinations.
Shoppers are drawn to the city's tree-shaded and pedestrian-friendly downtown, where a decade of thoughtful restoration and renovation has yielded beautiful results. The Grand Traverse Commons (a former mental asylum!) offers some shopping and dining adventures of its own, as do the nearby villages of Suttons Bay, Bellaire, Leland and Glen Arbor.
Traverse City restaurants now enjoy a national reputation for their fresh, innovative regional cuisine. Livability.com gave it first-place billing among 200 American cities in its Top 10 list of Surprising Foodie Towns, and Bon Appetit listed it as one of America's Top Five Foodie towns.
The 26 wineries of Leelanau and Old Mission have gained an international reputation for the clean, elegant taste and bouquet of their wines, and people love to make the annual fall pilgrimage to the two peninsulas to sample their vintages in the incomparable setting where they were made.