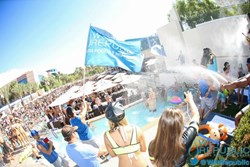 UK (PRWEB UK) 24 August 2013
Every summer is party time in Las Vegas and one of the biggest events of the year falls on the last weekend of August.
Labour Day Weekend 2013
From Friday 30th August through to Monday 2nd September, Las Vegas explodes into a party that rivals, if not trumps, anything on the planet bringing the world's best DJ's, Events and Entertainment to Sin City.
You will find household names such as Aviici, David Guetta, Tiesto, Calvin Harris and Deadmau5 just to name a few.
Labour Day is an annual holiday to celebrate the achievements of workers. In Las Vegas it celebrates party goers. This weekend is an event not to be missed and every venue in town hits their full capacity. It's somewhat of a monster for the party goers living and visiting Las Vegas.
So if you're lucky enough to find yourself heading to the party capital of the world, what's the best way to plan your immense weekend in Las Vegas.
Where to stay? What's best for you? Where can you find the best rates?
The team at High Roller Suites (hrsvegas.com) have put together a fantastic guide to planning the ultimate weekend in Las Vegas with a personal VIP concierge service contactable here: info(at)hrsvegas(dot)com.
Hotels - Best for Party Goers
The Cosmpolitan of Las Vegas – arguably the party hotel on the strip. Centrally located, this young, cool, funky and 5 star hotel is where the 'see and be seen crowd' now flock. Unbelievable rooms with terraces overlooking the strip and Bellagio fountains, home to Marquee Day and Night Club combined with a superb selection of restaurants including one of the hottest in town in 2013 – STK. Be sure to ask directions to the Secret Pizza, the New York style Pizza take-away that's hidden behind a false wall and has no official name or signposts.
Hotels - Best for Budget
HRSVegas director, Andrew Boas says of budget hotels "the key remit for budget seekers on Labour Day Weekend is to find accommodation that fits your budget, on or near the strip, with great rooms and close to the action. For many of our clients the most important part of the spend is on the party for table service or day beds and cabanas at the day clubs and Vegas pool parties. With this in mind we work carefully to select the best hotels for them so they can stretch the budget further in order for them to experience what Las Vegas is known for – the ultimate party"
Excalibur – A Las Vegas Icon – great affordable rooms with a medieval theme at the south end of the strip. Excalibur is close to MGM (for Hakkasan nightclub) and Mandalay Bay (for Light and Daylight clubs). Ideal for 2 sharing with some great affordable suites too.
Luxor – the US pyramid in the desert. Next to Excalibur, this fun and affordable hotel with a party atmosphere 24/7 in this homage to the Egyptian Period.
MGM Grand – One of the world's largest hotels with 5,500 rooms in a single tower, this is truly a resort on a scale not often seen. You'll find newly refurbished rooms, an incredible casino the size of 4 football fields an assortments of hotel guests providing a great seating for the Labour Day party. In 2012 the $130 million mega-club Hakassan opened on the corner of MGM Grand and changed the face of clubbing in Vegas and indeed across the globe.
Hotels - Best for Luxury
Wynn Hotel and Encore at Wynn – Las Vegas legend, entrepreneur and mogul Steve Wynn has created a 5 star oasis in the Nevada desert combining a truly luxurious resort with stunning rooms all beautifully furnished and serviced at the highest possible standard. With modern technology such as plasma TV, electronic curtains and lighting, Wynn and Encore satisfies the needs for every guest ranging from honeymooners, party goers of those who simply want the best of the best . Home to incredible night life and day club venues including XS, Tryst, Encore Beach Club and Surrender – all huge venues for Labour Day Weekend.
Aria – a new 5* hotel situated on the City Centre complex providing affordable luxury, modern rooms, restaurants, facilities and service makes this delightful hotel something to seriously consider. At Aria you will find unparalleled value for money for a 5* hotel with such a central location.
Of course there is a huge range of hotels to choose from and its advisable to book as early as possible for this weekend as the Las Vegas strip will be busy. HRSVegas pride themselves in providing the complete itinerary from the right hotel and the best party options, from budget to blowout.
Where to party in the club/day club scene for Labour Day Weekend?
With so much choice and clubs up and down the strip it's often difficult to know where the best events will be taking place. HRSVegas offer you true VIP access to all the hottest events at the biggest nightclubs and day clubs in Las Vegas.
Whether you want VIP tickets and party in the main pool or a grand cabana with private infinity Jacuzzi, you are sure to have a memorable Labour Day weekend in Las Vegas. When the sun sets, find yourself transported to world filled with neon lights, top DJs, lighting systems costing millions of dollars and even nightclubs with a waterfall. Be a Vegas VIP and take a dance floor table at a hot spot like Hakkasan or XS and you'll be the toast of the town.
Labour Day Weekend: Pool Parties and Day Clubs
Daylight Beach Club
The newest pool party on the strip. Located at Mandalay Bay and home to the biggest EDM DJ's in the world.

Friday, August 30th - Stellar
Saturday, August 31st - Zedd and Nicky Romero
Sunday, September 1st - Alesso
Monday, September 2nd - Dimitri Vegas & Like Mike
Encore Beach Club
Luxury is standard at this mega day club located at the Encore Hotel. This is a prime pool party at its best providing a home for the worlds biggest DJs
Friday, August 30th - Fedde Le Grand
Saturday, August 31st - Steve Angello
Sunday, September 1st - Afrojack
Monday, September 2nd - David Guetta
Wet Republic
Perhaps considered the daddy of the pool party scene Wet Republic, located at the MGM Grand, is a party not to be missed. With stunning daybeds, cabanas and bungalow options Wet Republic brings the biggest DJ's as standard and Labour Day Weekend is no exception.
Friday, August 30th - Tommy Trash & DH R3hab
Saturday, August 31st - Calvin Harris
Sunday, September 1st - Tiesto
Monday, September 2nd - Special Guest
Marquee Day Club
One of the most popular day clubs on the strip. Located at the Cosmopolitan Hotel, Marquee Day Club is a more intimate venue and brings top DJ's, beautiful people and an unforgettable party together in one impressive mix.

Friday, August 30th - Chuckie
Saturday, August 31st - Gareth Emery
Sunday, September 1st - Kaskade: Summer Lovin
Monday, September 2nd - SJRM & Seven Lions
Rehab Las Vegas
This was the original Vegas Pool Party and is now in its 10th year, Rehab always pulls in the wildest of crowds and top names in the music and entertainment industry. Located at the Hard Rock Casino and Resort, Rehab is a staple in the day club calendar.
Sunday, September 1st - Snoop Dogg
TAO Beach
Located at the Venetian Hotel alongside the gondolas, this Asian retreat is a non stop party scene in the Las Vegas sun. TAO Beach has history and is Luxurious, personal and stunning.
Sunday, September 1st - Trinadad James
Labour Day Weekend Nightclubs
Once the sun goes down, the Las Vegas strip lights up and the night clubs take over to bring the partying to the next level. Labour Day Weekend brings the best parties in the Summer to Las Vegas and a guide to the hottest events over this weekend is below.
Hakkasan Nightclub
The talk of the town can be found on the corner of the MGM Grand hotel, opened in 2013 this $130 million Uber-club Hakkasan is one of the newest and largest clubs in Las Vegas. It is simply unparalleled. Impressive, over loaded with incredible sounds, lights and entertainment and of course home to the best DJ's in the world including Calvin Harris and Tiesto.

Thursday, August 29th - Steve Aoki
Friday, August 30th - Hardwell
Saturday, August 31st - Calvin Harris
Sunday, September 1st - Special Guest
Monday, September 2nd - Tiesto
Marquee Nightclub
This was the first mega-club in Las Vegas and literally changed the face of clubbing in town and put Vegas on the map as a top clubbing destination. Spread across three floors at the Cosmopolitan of Las Vegas including a rooftop complete with cabanas and blackjack tables, Marquee is home of the best EDM artists. The main room is always packed with overflows into the Library and Boom Box rooms, this club is one of the best in town.

Friday, August 30th - Armin Van Buuren
Saturday, August 31st - Kaskade
Sunday, September 1st - Benny Benassi & Tritonal
Monday, September 2nd - Sander van Doorn and W & W
XS Las Vegas
For two years running this has been known by locals as one of the very best clubs in town. With a huge open pool, incredible main room, superstar DJ's and a party that rocks like no other, XS at Wynn Hotel is expected to be THE party this Labour Day Weekend.

Friday, August 30th - Dirty South
Saturday, August 31st - Steve Angello
Sunday, September 1st - David Guetta
Monday, September 2nd - Afrojack
Tryst
Known simply as "the one with the waterfall" this nightclub features a DJ booth on the edge of the dancefloor, floating over the water to a backdrop of a stunning waterfall. Tryst at Encore is sure to be a lively event with some of the best known DJs in the world.

Thursday, August 29th - Manufactured Superstars
Friday, August 30th - Jermaine Dupri
Saturday, August 31st - Lil Jon
Light
This new club concept opened in 2013 combining the vibe of nightclub with the thrill of a live Vegas show. The result fills your senses with a hybrid of music, dance and Cirque du Soleil acrobatics. The venue itself at Mandalay Bay features a one huge design with high ceilings and every VIP table location having excellent views of the dancefloor, DJ booth and stage. For those Vegas regulars, this is one not to be missed for a totally new experience.

Friday, August 30th – Sebastian Ingrosso
Saturday, August 31st - Skrillex
Sunday, September 1st - Nicky Romero
Pure Nightclub
A veteran nightclub and always a great party in Las Vegas, Pure at Ceasers Palace brings a stunning white, modern club experience with top names from the world of music to the party. The Patio at PURE has unsurpassed views of the strip from just above street level.

Friday, August 30th - Rev Run & DJ Ruckus
Surrender Nightclub
Elite, special, stunning are just some of the words to describe Surrender which comprises of an outdoor platform area with tables and VIP booths placed over the pool at Encore Beach Club. This gives an elegant outdoor area to compliment the bar, tables and VIP areas in the indoor section of Surrender nightclub in the Encore at Wynn Hotel. Surrender is often referred to as the supermodel of parties in Las Vegas. Top DJ's, true party flavour and a beautiful setting will bring your Labour Day Weekend to legendary status.

Thursday, August 29th - Nero
Friday, August 30th - Porter Robinson
Saturday, August 31st - Knife Party
Sunday, September 1st - Above and Beyond
TAO Nightclub
Adjacent to the TAO Beach Club at the Venetian hotel, TAO Nightclub brings an R&B and Hip Hop extravaganza to the weekend this Labour Day in Las Vegas.

Thursday, August 29th - Ice Cube with DJ Five
Friday, August 30th - Trey Songz with Eric D-Lux
Saturday, August 31st - Trindad James with Vice
Monday, September 2nd - Kaskade Redux: Vegas Edition
About High Roller Suites / HRSVegas.com
With offices in Las Vegas and London, HRSVegas.com are the leading experts in all things Las Vegas, providing a bespoke service for all their clients to deliver the very best Vegas has to offer, for any budget. With deals on hotels, activities, shows and limos, VIP access to clubs and day clubs, HRS also have access to the biggest suites, penthouses and villas usually reserved for High Roller Suites and unpublicised.