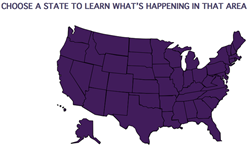 82% of drivers text, make phone calls or use other devices while driving regularly.
Louisville, Kentucky (PRWEB) August 26, 2013
Accident Injury Centers of America (AICA) released an interactive map of texting and driving laws in different states to show their support and officially join the campaign to stop texting while driving in Kentucky and in other states.
Texting while driving has been one of the major problems and the most common cause of fatality for teens and young adults in America. Most people do not realize how bad this situation is until it's too late.
Research shows that more than 82% of drivers text, make phone calls or use other devices while driving regularly. Most drivers are convinced that texting while driving does no affect their concentration in driving. Statistics shows that texting while driving increases the risk for accident 23 times.
According to research, texting while driving can distract any driver visually and mentally causing the driver to make poor judgments when it comes to any sudden situations on the road.
Even though multitasking is very important in today's world, texting and driving is more dangerous than the possibility of saving time. An average text takes a driver's eyes from the road for about of 5 seconds, which is like driving blindfolded on the length of an entire football field at 55 mph. Texting while driving is a serious issue in our society that most people overlook.
Many states have banned texting while driving, but some states haven't completely banned cellphone use while driving. AICA's text and drive map provides the information on texting and driving laws for all states. Visit this map to see whether your state has banned texting and/or using a cellphone while driving.
Before you start driving, you should turn off your cellphone, put it on silent or put it in your purse, bag or on the back seat to avoid any distractions. Parents should talk to their children about cellphone use while driving and help them take the pledge not to text and drive. Texting while driving is not only illegal, but also dangerous.