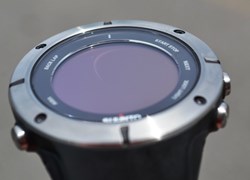 Skiing, running, cycling, boating, inline skating, hiking, mountaineering and just about every conceivable sport is covered by this watch
Bozeman, MT (PRWEB) August 25, 2013
Suunto Ambit 2 Sapphire was rated the best GPS watch of 2013 by the Heart Rate Watch Company and until August 31st, 2013 it is on sale with a $119 Goal Zero Guide 10 Plus Mobile kit solar charging kit being given away.
"This is the best deal we can possibly make on the Ambit 2 Sapphire and customers have reacted quite favorably," says Rusty Squire, President of the Heart Rate Watch Company. He adds, "The Goal Zero portable solar charging kit is the perfect compliment to this watch and it works great for iPads and Smartphones, too!"
THE DURABILITY IS IN THE CRYSTAL
Sapphire crystals are legendary for their extreme durability and the Suunto Ambit 2 Sapphire uses a real sapphire crystal. "I have friends who have Tag-Heuer watches they bought 15 years ago in Europe with sapphire crystals and they are still flawless," says Squire. He adds, "The battery and the band are about the only things that will ever require replacement down the road."
"Find me one other GPS fitness watch that uses sapphire crystals because we've searched and there are none - Suunto Ambit 2 Sapphire is it," says Squire.
OVER ONE THOUSAND APPS
Suunto Ambit 2 Sapphire has an expanded memory so it can run up to five apps concurrently. "The expanded memory, additional swim features and weather applications were the main changes to the Suunto Ambit 2 over the first version, with the Sapphire crystal being new as well," says Squire.
EVERY OUTDOOR SPORT
"Skiing, running, cycling, boating, inline skating, hiking, mountaineering and just about every conceivable sport is covered by this watch," says Squire. He adds, "It produces quality data metrics, heart rate, great maps and more - its tough to beat."
COMPLEMENTARY FITNESS BOOKS
The Heart Rate Watch Company gives all customers two complementary e-book PDF downloads entitled "How To Successfully Use A Heart Rate Monitor" and "How To Elevate Fitness With Strength and Interval Training". "We want to make sure our customers have all the tools necessary to succeed at their goals," says Squire.
COMPLEMENTARY GOAL ZERO GUIDE 10 SOLAR KIT
"The Goal Zero Guide 10 Plus Mobile kit is one of the best accessories we have ever tested because it can recharge your watch three times, charge half an iPad and recharge your Smartphone several times - all remotely," says Squire. He adds, "The battery pack charges back up in about 2 hours with a small one pound solar panel."
"If you'd like to talk to a real expert about Suunto heart rate monitors simply call us at 866-586-7129", says Squire. He adds, "We'll make sure we answer all your questions and help you find the product that is a perfect fit for your needs."