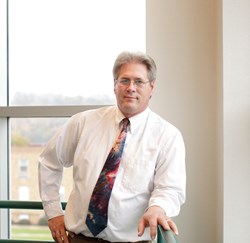 Reading, PA (PRWEB) August 26, 2013
Scott Ballantyne, PRSBA, associate professor of business at Alvernia University has been named the new chair for the business department. In this role, he has two initiatives to take the expertise in the university's undergraduate and MBA programs into the community.
First, he plans to visit the Future Business Leaders of America chapters at local high schools and discuss the book he co-authored, "Planning in Reverse a Viable Approach to Organizational Leadership." Written with two other Alvernia business department faculty members, Mary Ellen Wells, JD, LLM and Dr. Beth Berret, this book offers a fresh approach to strategic planning. While not a textbook, this book has been used in two MBA classes at Alvernia and is the perfect way to help high school students understand why some businesses fail and others succeed.
Second, he will work with local companies and organizations to offer leadership and training programs for their employees. Alvernia has provided this type of outreach in the past. By holding workshops conveniently in the workplace, managers learn skills that enhance their productivity and performance.
In addition, he hopes to grow the business classes offered at the university's Philadelphia and Pottsville centers.
Dr. Ballantyne served as the department chair from 2003 to 2006 and said the position is now, "much more student oriented. In addition to the academic component, the job now requires more interactions with the operations of the university."
He holds a doctorate in education administration from Widener University and a master in public administration from Kutztown University, but is most proud of the degree he obtained as an undergraduate accounting student at Alvernia, in 1986.
Dr. Ballantyne is the recipient of Alvernia's 2009 Christian R. & Mary F. Lindback Foundation Award for Excellence in Teaching and was also recognized in 2009 by the Association of Collegiate Business Schools and Programs (ACBSP) which honored him with the Teaching Excellence Award for Region Two (Pennsylvania, Delaware, District of Columbia, Maryland, Virginia and West Virginia).
Previously, Wells served as the department chair for seven years and stepped down to spend more time teaching and publishing.
About Alvernia University's Business Programs
Alvernia offers a Bachelor of Science Degree in Business with concentrations in accounting, human resource management, marketing, management and sport management. On the graduate level, the university is known as a leading provider of traditional and online MBA in Reading and the surrounding communities in Pottsville, Harrisburg, Allentown, Lancaster, Kutztown and Philadelphia. Both undergraduate and graduate programs are accredited by ACBSP.