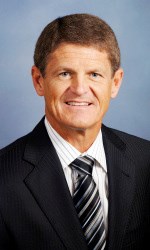 The Reason to Hope breakfast will bring those that are passionate about the disease together to hear an inspirational story.
Newton, NC (PRWEB) August 25, 2013
Join the Alzheimer's Association for its A Reason to Hope breakfast on Thursday, September 5 at Abernethy Laurels and be a partner in the fight against Alzheimer's disease and other dementias.
The breakfast fundraiser, organized by the Western Carolina Chapter of the Alzheimer's Association in partnership with Abernethy Laurels, will be held from 8:00-9:00 a.m. on the campus of the retirement community. Sherrills Ford native Bobby Lutz, Associate Head Coach NC State Basketball, will share his personal story of having a loved one affected with Alzheimer's disease.
Attend this year's A Reason to Hope breakfast to learn more about what the local Alzheimer's Association is doing to support those in our region directly affected by Alzheimer's disease. Hear the powerful stories of people caring for others with the disease and discover more about the compelling research being done to combat Alzheimer's. A representative from Abernethy Laurels will give insight about the current projects taking place on their campus to meet the rising need of memory support care in the area.
Alzheimer's disease is one of the fastest growing health concerns in the United States. It is the sixth leading cause of death in the nation, and the only cause of death in the top ten without a way to prevent, cure, or slow its progression. Demand for the chapter's programs and services as well as retirement facilities that can provide safe care for individuals diagnosed with the disease is rising as the number of North Carolinians with Alzheimer's continues to grow. It is estimated that over 170,000 people in the state of North Carolina have Alzheimer's, and this number is expected to dramatically increase by 2025.
To reserve your seat or for more information about the inspirational event, please contact Abernethy Laurels Director of Public Relations Shaylyn Ladd at 465-8028.
Abernethy Laurels, a not-for-profit retirement community in Newton, NC takes pride in its history and tradition of excellence. While the community offers a wide range of first-rate amenities, it is surprisingly affordable. For more information, visit http://www.abernethylaurels.org or call toll free 877-637-7941 or 828-465-8552.