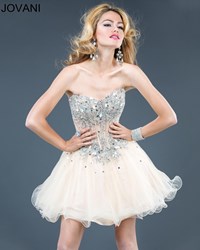 YouTube star Michelle Phan wears Jovani at the launch party of her new EM Cosmetics makeup line.
(PRWEB) August 26, 2013
The long awaited Jovani Homecoming 2013 Collection is now available for purchase online on the newly revamped macktak.com. Drop by their showroom located on 31 W 38 Street in NYC to try on an array of Jovani dresses in real life.
Jovani, founded in 1983, has always ensured that they stayed ahead of the constantly evolving fashion world. It is no surprise that their creations have become increasingly popular after being seen time and again on celebrities like Paris Hilton and Katy Perry, and pageant queens like Olivia Culpo. Their gorgeous dresses have also been recently showcased on YouTube star Michelle Phan at the launch party of her new EM Cosmetics makeup line.
Homecoming is the first big event of the school year and is almost as important as Prom. The memories you make at homecoming will stay with you even years after high school. The photos you take will be ones you look back on and either smile or scorn at. To make sure the former instead of latter happens, choosing the right dress is extremely important. At MackTak.com, we guarantee you will not go wrong with the array of beautifully crafted options in the Jovani Homecoming 2013 Collection.
There will be a perfect style in this new Jovani collection for any girl despite their personality type, skin tone and hair color. If you have a more vibrant, outgoing personality, you will love the Jovani 77845 strapless dress that features a layered flare skirt and encrusted with colorful jewels. If you want something that is more feminine and timeless, the Jovani 78359 lace sweetheart dress with bow sash will be a winner.
This new collection is full of embellishment for that touch of glamour that everyone goes for at homecoming. The types of silhouette also vary from flared to body contour styles. They even have dramatic high low dresses. One of the recurring motifs for this collection is the peacock feather design.
In the Jovani homecoming 2013 collection, you will see lots of peacock prints, embroidery and even peacock feathered skirt.
About MackTak.com:
MackTak was founded by Mack Tehrani and the support of a close friend Ali Dowlaty. The business first started when they started a band in college, where they created and sold unique and crystal encrusted t-shirts under the name MackTak Collection to their fans and friends. Today the brand has developed so much from the college days and is now a successful online retailer that specializes in prom, evening, and cocktail dresses. They carry more than fifty designer dresses and is growing rapidly. They also offer free shipping and exchanges.