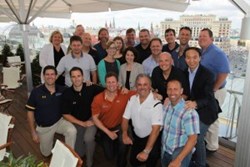 "The Thera-band Research Advisory Committee Meeting is always an incredible event. Working with some of the best clinical and institutional researchers from around the globe is always a great collaborative and innovative experience
Fort Washington MD (PRWEB) August 25, 2013
The Thera-Band® Academy's 2013 Scientific Advisory Board, known as TRAC, represents five countries and expertise in physical therapy, chiropractic, exercise science, athletic training and massage therapy. Dr. Jay Greenstein and Dr. Barton Bishop represented Sport and Spine Rehab and the Sport and Spine Rehab Clinical Research Foundation. According to Dr. Bishop, TRAC members have been responsible for 31 published articles and abstracts since last year including 11 collaborative projects. In addition, Dr. Bishop was proud to report that the Sport and Spine Rehab Clinical Research Foundation was responsible for 6 articles and abstracts published in peer-reviewed journals since last TRAC meeting and presented four studies at this meeting. In addition to the TRAC members from the USA, Spain, Denmark, China, and Canada; this year's meeting also included a guest participant, Sergey Starikov, PhD from Russia.
"It is such an honor to be involved in TRAC. Each and every year, the research gets better and better. At the same time, we are recognized as a leader in clinical research amongst this distinguished group and in the world of research. I can't wait to see what we do for next year!" said Dr. Bishop.
The Thera-Band® Academy was formed to scientifically document the benefits of resistance exercise and pain relief, guide the company in its development of new products and exercise programs, and to promote therapeutic exercise and pain management through professional and consumer education.
Dr. Jay Greenstein, who has been a member of the Thera-band Scientific Advisory Committee since July 2007, had this comment about this year's meeting;
"The Thera-band Research Advisory Committee Meeting is always an incredible event. Working with some of the best clinical and institutional researchers from around the globe is always a great collaborative and innovative experience. The Sport and Spine Clinical Research Foundation's four clinical studies were very well received and we are appreciative of being part of such an esteemed and dedicated group."
Sport and Spine Rehab provides chiropractic, physical therapy, and rehab services at seven locations in the Maryland and Virginia suburbs of Washington, D.C. and Baltimore.
Sport and Spine Rehab Clinical Research Foundation is a 501-c3 dedicated to helping us better fulfill our mission of providing the best evidence-based care to patients everywhere.