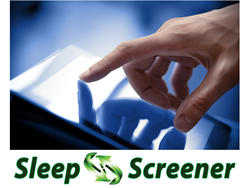 Now we have an application that without question increases patient referrals and assists the health care professional by directing them to prescribe the appropriate diagnostic testing
Fort Myers, FL (PRWEB) August 25, 2013
Signature Sleep Systems (dba Sleep960) announced today that it will release the latest version of SleepScreener at the upcoming "Current Concepts in Sleep" meeting August 30, 2013 in St. Petersburg Beach, Florida. This is ideal environment for a product release such as SleepScreener since the majority of attendees are sleep professionals from sleep labs across the state that are dealing with dropping referral rates for in-lab studies due to the insurgence of home sleep testing.
This has created a significant reduction of patients that qualify for overnight facility sleep studies since insurance companies, in order to reduce costs, are now directing upwards of 70% of patients towards home sleep testing. SleepScreener was designed to fill this gap since it has the ability to eliminate paper questionnaires and more effectively identify patients with all the major sleep disorders in a primary care or dental practice environment. It also has the ability to recognize certain comorbid conditions that have been determined by the insurance payers to restrict prescribing a home sleep test.
SleepScreener is available in 2 versions that allow it be accessed by patients using a tablet in the medical practice waiting/exam rooms or directly from a website. The latter is ideal for situations where the staff is too busy and would rather have the patient complete the questionnaire before they arrive for their appointment. Medical practices utilizing the website are given their own individual reference code which directs the patient to that practices page on the site.
In either case the health care professionals are alerted on their own Tablet or Smartphone of any high risk patients. One touch displays a detailed Sleep Profile report and another displays a populated Electronic Referral form. A final touch sends the signed referral to a designated facility licensed to use the application. Depending on how much time is spent discussing the results with the patient the entire process can take less than a minute.
Additional enhancements now allow the medical practice to display their own messaging and videos to the patient. For example a custom "Welcome" message can be displayed before the patient begins the questionnaire. An optional short video can follow informing the patient how to complete the questionnaire and the effects of undiagnosed sleep disorders. Depending on the results, a final message can alert the patient they are at high risk for a particular sleep disorder and should discuss this with their doctor. Patients can even be directed to another website after completing the questionnaire.
"We have added another level of customization so each practice using SleepScreener can produce their own messaging and videos if they wish. This creates a more personnel contact with the patients and our experience has indicated when this happens individuals are more likely to complete the questionnaire" say Michael Clark, VP of Sales and Business Development. "Now we have an application that without question increases patient referrals and assists the health care professional by directing them to prescribe the appropriate diagnostic testing".
SleepScreener is compatible with the SleepLinkz Sleep Medicine Delivery Platform.
About Signature Sleep Services LLC
Signature Sleep Services (dba Sleep960) is a sleep medicine resource company providing diagnostic & therapy products, consultation & management services and Polysomnography educational courses. The nucleus behind our company is a new Sleep Medicine Delivery Platform called SleepLinkz. It is a consortium of sleep industry vendors that have contributed a number applications and devices with the unique ability to exchange patient information thus eliminating redundant data entry and dramatically decreasing staff workload.