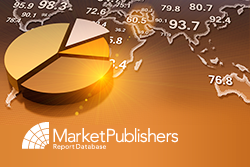 London, UK (PRWEB) August 23, 2013
Market Publishers Ltd announces that new comprehensive research studies drawn up by MarketsandMarkets have been added to its catalogue.
Vital Signs Monitoring Market - Market Landscape Analysis of Blood Pressure Monitoring Devices, Pulse Oximeters and Temperature Monitoring Devices - Forecasts up to 2018. The global vital signs monitoring market was valued at USD 3,148 million in the year 2012 and is market is poised to grow at a CAGR of 6.61% from the year 2013, reaching approximately USD 4,375 million by 2018. The tremendous market growth is due to a rise in the aging population, not only in the developed regions of the world, but also in developing countries. Awareness of the convenience and cost effectiveness offered by these equipment and services is also increasing the demand for this market. The research report categorizes the global vital signs monitoring market into geography, and by product. The market is further broken down by geography, with exhaustive revenue analysis, as well as the forecast up to 2018.
Semi Autonomous Market For Passenger Car By Type (Adaptive Cruise Control, Lane Keep Assist, Autonomous Park Assist & Adaptive Lights), By Technology, By Geography, & Autonomous Car (Qualitative Trends & Technologies) – Global Trends & Forecast To 2018. The near-autonomous passenger car market is projected to be USD 10.6 billion in 2013 and is estimated to reach USD 21.4 billion by 2018, growing at CAGR of 15.08% over the same period. The flourishing demand for premium cars across the globe, along with existing as well as upcoming stringent safety regulations, will drive the market for near-autonomous passenger cars. The near-autonomous passenger car market in 2013 is projected to be dominated by adaptive cruise control and adaptive front lights, in terms of revenue. The report is the essential source of cutting-edge qualitative and quantitative information on the world near-autonomous passenger cars market development up to 2018.
Vaccine Market - By Technology & Types, Trend Analysis By Various Classes - Live / Attenuated, Subunit, Toxoid, Conjugate, DNA, Recombinant Vector, Synthetic, Dentritic Vaccines And By Indications - Infectious Diseases, Cancer, Allergy, Diabetes, Cardiovascular Disease With Market Landscape Analysis - Global Forecasts To 2022. The global vaccine market is estimated at USD 32.05 billion in 2013 and is expected to reach USD 84.44 billion by 2022. The report presents an in-depth overview of the market, segmented by technology class, types, end users, disease indication, and geography. It examines predominant market trends, evaluates the competitive pressures, discloses details on the top market players, besides unveiling the future opportunities for the market. Additionally, an overview of regulations across various geographical regions is covered; and the complete value chain of the vaccine market is schematically represented with the significance of each stakeholder outlined.
Software Defined Data Center (SDDC) Market (Software Defined Storage (SDS); Software Defined Networking (SDN), Software Defined Compute/Server, Network Virtualization Security) - Global Advancements, Market Forecasts and Analysis (2013 - 2018). In the future, there will be an increased adoption of SDDC solutions, as major vendors are aggressively investing and rigorously working towards building cost effective data center solutions, in an effort to reduce the overall cost incurred by end-users. The total SDDC market is expected to grow from USD 396.1 million in 2013 to USD 5.41 billion by 2018, at an estimated CAGR of 68.7% from 2013 to 2018. The report gives detailed insights into the global SDDC market split across various regions, type of segments and type of end-users. The study also emphasizes on key adoption trends, evolution of data centers, future opportunities and business cases in this innovative market.
Advanced Functional Material Market For Low Carbon Applications By Categories (Ceramics, Composites, Energy Materials, Conductive Polymers & Nanomaterials), Applications (Chemicals, Electronics, Healthcare & Transportation) & Geography - Global Trends & Forecasts To 2018. The global market for AFM has grown significantly during the past few years and is expected to grow at a modest pace in the next five years, mainly driven by growing demand in the Asia-Pacific region. Market revenue for AFM in Asia-Pacific was USD 29,756.9 million in 2012. China, Japan, and South Korea are the major markets for AFM in Asia-Pacific. The report categorizes the global market for AFM for low carbon applications on the basis of applications, and geography, forecasting volumes and revenues in each of the submarkets.
More new studies by MarketsandMarkets can be found at http://marketpublishers.com/members/marketsnmarkets/info.html
About Us:
MarketPublishers.com is a multilingual hypermarket offering a rich collection of comprehensive studies on various markets, sectors, industries, companies, etc. We perform professional services aimed to equip our clients with high-quality research products and support critical decision-making.