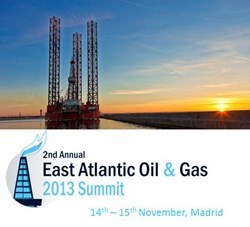 It's an IRN Summit.
Madrid, Spain (PRWEB UK) 26 August 2013
Given the developments and changes that the East Atlantic countries are undergoing, global summits organiser, IRN is delighted to announce that the East Atlantic Oil & Gas 2013 Summit will be coming back on 14th-15th November, in Madrid, Spain for the second annual edition.
Building on the success of the first meeting, the summit, will be the networking platform for investors to unveil further business opportunities in the industry and follow up with all the exciting new developments and exploration projects in Mauritania, Spain, Portugal, France and Morocco.
Governmental Officials will be present at the Summit to discuss the business potential in the East Atlantic region, addressing issues like Morocco's decision to focus on enhancing its oil and gas production with new studies showing that the country offers a high standard of exploration opportunities with many fields that await drilling being already located; Spain's upcoming seismic surveys and exploration licenses to be awarded; Portugal's new exploration plans in the region and new joint ventures, having awarded 16 licensing rounds to date; the opportunities for foreign investment in the Mauritanian Ministry of Energy industry, a very promising land, neighbouring to oil rich Algeria; the French switch of focus to the hydrocarbons market and the opportunities this involves and many more focused topics.
Energy efficiency is what the governments are planning to achieve in the upcoming period and the oil and gas potential of the area is very high, making the region an excellent area for rewarding investment and further development towards achieving more energy efficiency. The 2nd Annual East Atlantic Oil & Gas Summit is the optimum forum for getting involved with the industry stakeholders and those wishing to pursue prospects in the region.
More information can be found on the website of the event, http://www.eastatlanticsummit.com/.