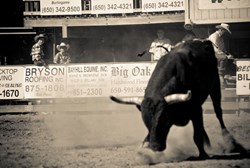 The weekend festival not only features the heart pumping Running With the Bulls, but it also includes two days of the Great Bull Battle of the Bands, lots of good food, drinks, exhibitors, entertainment, and rides
Phoenix, AZ (PRWEB) August 23, 2013
Running with the Bulls USA, who held their first Running with the Bulls Festival in Mesquite twelve years ago, has announced that they are adding Salt Lake City, Utah to their 2014 Festival calendar. This will be in addition to their third annual Cave Creek, Arizona Festival in the Phoenix area this October 25-27, a mega event in Las Vegas on April 11-13, 2014, and Phoenix again in October, 2014.
Thousands of adrenaline junkies have run in Running With the Bulls USA events in the past years, but this season, they will have the opportunity to win over $10,000 in each of the Festivals.
"The Running with the Bulls Festivals have been wildly successful over the years," says Phil Immordino the event organizer, "And this year it's going to be about big bulls, big bucks, and big fun."
Immordino has taken on a new partner this year that will bring exciting changes to the weekend-long festival. They have expanded to feature six races on Saturday and six races on Sunday. This will accommodate twice as many runners as they have had in the past. Attendance is expected to double as an estimated 15,000 people from all over the United States will descend on Cave Creek, a community just fifteen minutes from Phoenix.
The weekend festival not only features the heart pumping Running with the Bulls, but it also includes two days of the Great Bull Battle of the Bands, lots of good food, drinks, exhibitors, entertainment, and rides.
Running with the Bulls USA has received worldwide coverage for their past events and great sponsorship support. The past success has many previous runners anxiously awaiting the announcement of additional locations.
"We have had hundreds of past runners and sponsors asking us to expand our event calendar, so we are excited about adding Salt Lake City, and continuing our role as pioneers in these exciting Running with the Bulls events," explained Immordino.
Tickets for The Running with the Bulls Festival are currently on sale. Advanced purchase discounts, group rates, and additional information on this fun and exciting event can be found at http://www.runningwiththebullsusa.com.