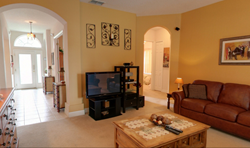 "Booking a vacation home was easier than getting my last hotel, I feel like hotels are for people that don't know about vacation homes, so in a way I'm glad."-Libby Gosslein
Orlando, Florida (PRWEB) August 23, 2013
Aplusvacationhomes continues taking reservations for tourists wanting an Orlando or Kissimmee vacation rental for this year's Epcot International Food and Wine Festival. The annual event is a 45-day favorite for foodies from all over the world.
Tourists travel the world using taste and mouth-watering aromas as guides. With approximately 2-dozen different marketplaces offering the best of their country's cuisine and wine spread over Disney's Epcot Park, the festival is a favorite for local residents and tourists. The kiosks and marketplaces allow guests to sample and sip before venturing into Canadian wilderness or the Italian countryside.
The amazing realness of Epcot Park's adventures put visitors in the center of each country's culture and landscape from which the foods represent. The attractions include a 3-D Canadian wilderness adventure and hang-gliding over California. Visitors can leave the continent for a trip to China for a look at the Temple of Heaven and the Garden of Ponds. Spain, Italy and Norway are among other countries guests are invited to tour while at the festival.
After a day of adventure and great food, visitors look forward to returning to their Disney rental home for relaxing. Orlando Florida vacation homes have taken the place of traditional hotel lodging in the region because of the comfort and convenience provided. Travelers want to feel at home after a long day of exploring and Florida vacation rentals give the weary traveler a comfortable atmosphere to regenerate in.
Hotel rooms are small and guests have no personal space to spread out in. Hotels also get noisy and the sounds from adjacent rooms is heard. The rooms near the swimming pool are often loud or smell of the swimming pool chemicals used to keep it clean. If extra towels or pillows are needed, someone has to call the front desk and wait for their delivery if the hotel has any left. A Disney rental home, on the other hand, comes with towels and other linens folded in the linen closet and guests get their own as needed.
There are private swimming pools and hot tubs available in Florida vacation rentals if these amenities are requested. Aplusvacationhomes manage the cleaning of the swimming pools, hot tubs, and homes they rent so they are always ready for the next group. Rental homes often have game rooms and guests can choose from 1-bedroom homes up to large 7-bedroom homes. House guests have personal space, which is why visitors continue returning to Orlando Florida vacation homes each year.
Exploring Epcot International Food and Wine Festival is easy from a nearby Disney vacation rental home. The homes are central to Epcot Park in Lake Buena Vista. The homes have full kitchens with cookware, should a craving hit while away from from the food festival.
Orlando Florida vacation homes fill fast for the Epcot International Food and Wine Festival. Reserve a home now and be ready travel the world with your stomach in the fall.