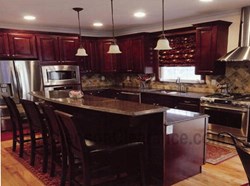 During the dinner provided by KitchensOnClearance.com, customers can discuss important decisions about their new kitchen design
(PRWEB) August 26, 2013
KitchensOnClearance.com presents their promotion "dinner-on-us" to customers who purchase a cabinet door sample. Shoppers who are purchasing new cabinets for their kitchen will want to see a sample of the quality, style, and color they are selecting. It is important to be sure the design and color of the cabinets will complement the overall design concept of the new kitchen.
KitchensOnClearance.com offers a user-friendly website to view various kitchen cabinet designs and an easy way to order samples. The samples can also be ordered over the phone or on location at the KitchensOnClearance.com showroom in Miami. Now, customers can consider a sample of the cabinet door and receive a free dinner. This promotion incorporates a $25 certificate to restaurant.com, offering a dinner at numerous popular restaurants throughout the country.
During the dinner provided by KitchensOnClearance.com, customers can discuss important decisions about their new kitchen design. Once the customer has viewed the sample or samples of cabinet doors, they can return the sample to the company for a full refund or credit toward their cabinet purchase. It is a win-win promotion for the customer.
KitchensOnClearance.com is the premier online store for residents looking for discounted kitchen cabinets that offer high quality and function. They distribute solid wood cabinets that can be delivered ready to assemble. Customers may also purchase cabinets already assembled for an upgraded charge. They also distribute accessories, superior crafted fixtures, and high-performance counter surfaces, including granite, for kitchen and bathroom.
KitchensOnClearance.com delivers additional quality services to its customers, including design services. All the customer's design service needs can be communicated online. The design team offers innovation, the latest design trends and functionality at a low cost. The online store can further assist in customer financing through GE credit for those looking to purchase kitchen cabinets with a low, monthly payment. Their friendly customer service staff can assist customers in finding quality installers in the customer's area.
About KitchensOnClearance.com:
KitchensOnClearance.com was founded in Miami, Florida. They have been offering full kitchen remodeling and renovation services for over seven years. Their quality solid wood cabinets and accessories can be shipped throughout the USA, Canada, and the islands.