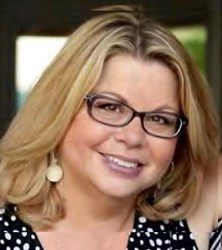 As an executive coach, I identify self limiting behaviors and help people step into their greatness.
Portland, OR (PRWEB) August 26, 2013
Victoria Trabosh, author of Dead Rita's Wisdom: Simple Words to Help you Live an Extraordinary Life, announces two upcoming appearances in Seattle Washington. Trabosh will be signing books at Barnes and Noble August 29 at 6pm and leading a Wisdom Circle August 30, 5:30pm at East West Bookshop.
Wisdom Circles are transforming and empowering events led by Victoria Trabosh who inspires and facilitates personal growth. Because readers of the book Dead Rita's Wisdom discover the power and value of sharing personal life experiences from the lessons in the book, Trabosh recommends people read the book before attending a Wisdom Circle. Trabosh's combined skills as an author, coach, and communicator offer attendees a valuable experience. "As an executive coach, I identify self-limiting behaviors and beliefs, and help people move into their own greatness," Trabosh explains.
Victoria Trabosh was reminded about the power of women gathering in circles through the nonprofit organization the Itafari Foundation that she co-founded and serves as president. Itafari provides support and financial aid to the victims and survivors of the genocide in Rwanda. On visits to Rwanda, Trabosh experienced firsthand the power of healing and growth through circles when she participated with the local women weaving baskets, making jewelry and sharing experiences. "The power of the circle was palpable. Women who had experienced horrific ordeals gave each other the unconditional and often unspoken support that sustained them through grief and sorrow for the immeasurable losses suffered. I decided to bring back the ritual of circles for the purpose of support and growth to my hometown, and fashioned my book readings from this idea," Trabosh says.
Wisdom Circles have become so popular that women in areas outside Trabosh's immediate community are forming these Circles, asking her to facilitate.
August 29 Victoria Trabosh will appear at the Barnes and Noble, Pine Street, Seattle Washington at 6pm, and August 30 Trabosh will conduct a Wisdom Circle at East West Book store in Seattle, Washington at 5:30pm. Handmade baskets and jewelry from Rwanda will be on display and Trabosh will be signing copies of her book Dead Rita's Wisdom: Simple Words to Help you Live an Extraordinary Life. For media inquiries, contact Diane at info(at)inspiredmc(dot)com.
About Victoria Trabosh
Victoria is an executive coach with over 35 years of corporate and entrepreneurial experience. Her expertise is coaching senior executives and entrepreneurs. She specializes in leadership and communication.
She is a multi-media personality as radio host for Smart Woman Talk on the CTR radio network; a columnist for Choice Magazine, and a popular guest on ABC affiliate AM Northwest TV. Victoria is a sought after speaker worldwide for her knowledge, wisdom and transformative talks.
In November 2011, she authored her first book, Dead Rita's Wisdom – simple words to help you live an extraordinary life published by Wisdom Beneath My Wings Publishing. Victoria's goal is that each reader comes to know the wisdom they have within that will help them reach their greatest dreams. She is leading and forming Wisdom Circles where the wisdom of one can benefit the beliefs, attitudes and actions of many.
Victoria is the co-founder and president of Itafari Foundation, a nonprofit organization assisting the survivors of the 1994 Rwanda genocide. Itafari has raised over $800K since 2005 and works specifically in the areas of microfinance, education, child sponsorship, raising goats, and importing the world-class baskets and jewelry from Rwanda. She has traveled to Rwanda 10 times and is planning her next trip. In 2006, she had the honor of speaking at the United Nations in New York City to honor the victims of the 1994 Genocide.