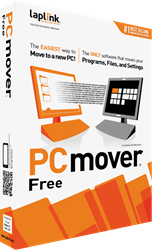 PCmover is so simple, anyone can use it.
Bellevue, WA (PRWEB) August 23, 2013
Laplink Software, Inc. is celebrating the new school year with PCmover Free. PCmover is the number one best-selling application for PC-to-PC migration and is the ONLY software that moves applications to a new PC.
According to the Huffington Post, parents are expected to spend an average of $634.78 on back-to-school shopping just this year. Factor in the price of new technology, like buying a computer, and that number is much higher.
"We know how stressful back to school shopping can be," said Thomas Koll, Laplink's CEO. "Now, when parents buy a new computer, they can use PCmover Free to transfer programs, files, and settings from the old PC to the new one automatically. Plus, we offer Free Transfer Assistance with live help 24/7 to guide you through the entire process."
PCmover Free helps students start off the school year right with unique, user-friendly features. A simple, step-by-step process allows anyone to take advantage of the migration software regardless of technical skill. Multi-tasking is easy with PCmover's unique "set it and forget it" operation. Users simply select what they want to transfer—pictures, music, videos, applications, Internet favorites, e-mail, and much more—and walk away. PCmover Free handles the rest at lightning fast speeds.
Research by Laplink on PC buyers' habits demonstrates that 1 in every 5 PC buyers are so concerned about transferring everything to a new PC that they will likely put off buying one. Parents with children who need computers to function well in school may not have that option.
PCmover Free eases parents' stress while allowing students to perform to the best of their ability. With Free Transfer Assistance from certified PC migration experts, an easy undo feature, and complete selectivity, PCmover is the no-hassle solution to buying a new PC.
"PCmover Free is so simple, anyone can use it," said Koll. "With a helpful user guide and Free Transfer Assistance, there's no reason to avoid buying a PC."
For details on getting PCmover Free, please visit http://www.pcmoverfree.com.
About Laplink Software, Inc.
For nearly 30 years, Laplink has been the leader in providing software used for PC migration, remote access, file transfer, and synchronization. The privately-held company was founded in 1983 and is headquartered in Bellevue, Washington.