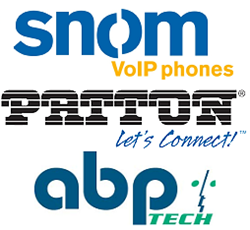 We are happy to extend our partnership with Patton, as we can now offer SMBs a total solution consisting of our standards-based SIP IP phones and their IP-PBX and VoIP gateway for legacy integration.
Gaithersburg, MD and Woburn, MA (PRWEB) August 26, 2013
snom technology Inc. and Patton Electronics announced today that they are expanding their existing partnership by offering telephony bundles in North and South America through value-added distributor ABP Technology.
Beginning August 30, the companies will sell a bundle consisting of snom's SIP-based VoIP phones and Patton's SmartNode Branch eXchange (SNBX) appliance preinstalled with Windows 7 and 3CX Phone System software.
The telephony bundle will be showcased at the ITEXPO West show in Las Vegas from August 27-29. It will simplify the buying process, decisions and installations, as resellers and integrators simply have to decide only how many phones they need, how many simultaneous calls are required, and whether they are connecting legacy equipment to the IP-PBX infrastructure.
"Answer those questions and your bundle is ready to be shipped and installation couldn't be easier," said Tyler Delin, Patton's product marketing manager. "The SNBX will ship to your door with Windows 7 and 3CX Phone System already installed."
From there, all that is necessary is to input the 3CX license key to unlock simultaneous calls and provision snom's IP phones using the 3CX auto-provisioning tool.
"We are happy to extend our partnership with Patton, as we can now offer SMBs a total solution consisting of our standards-based SIP IP phones and their IP-PBX and VoIP gateway for legacy integration," said Mike Storella, snom chief operating officer in North America. "Our phones already work very well with the 3CX IP-PBX engine. Selling these previously discrete components as a whole just makes buying and installing that much easier. Plus, customers have one point of contact for service."
The bundle will be available through ABP Technology, a Dallas-based distributor specializing in IP telephony solutions. Buyers can expect competitive pricing on the bundle, compared with purchasing the same components discretely.
In addition to bundling the IP-PBX, IP phones and VoIP gateway, customers also have the option of a bundle that includes VoIP routers, which prioritize voice traffic over data traffic.
Patton and snom will showcase these products together at ITEXPO in Las Vegas August 27-29 in the snom booth (#715), as well as the ABP booth (#730).
To learn more about snom's channel activities in the Americas, go to http://www.snomchannel.com; follow us on Twitter; like us on Facebook; join our LinkedIn group; or add us on Google+.
About snom
Founded in 1996, snom technology AG develops and manufactures VoIP telephones and related equipment based on the IETF open standard, SIP (Session Initiation Protocol). Recognized for its high-quality, customizable and cost-effective business phones, snom is also differentiated by the company's history in the VoIP industry and its dedication to high security standards. All of snom's products are designed to be fully interoperable with leading communications equipment vendors. snom customers and partners benefit from the interoperability and flexibility that snom telephones offer, including plug-and-play integration and universal compatibility with standards-based SIP VoIP platforms, applications or services. In September 2011, the snom 300 and snom 821 became the first and only SIP phones to achieve "Qualified for Microsoft Lync" status – Microsoft's top distinction for fully tested interoperability and compatibility with Microsoft Lync. snom's leadership continues today, based on its six-phone UC edition portfolio – the industry's largest and most extensive family of standards-based business phones qualified for Microsoft Lync enterprise environments.
snom technology AG is headquartered in Berlin, Germany, with offices in Italy, France, the United Kingdom and the U.S. that support a global network of channel partners in Europe, the Americas, Asia and Africa. For more information, visit http://www.snom.com/.
About Patton Electronics
Patton is all about connections. It is our joy and mission to connect real-world customer challenges with high-quality, right-priced solutions—complemented by unrivaled customer service and technical support. Incorporated 1984, Patton has built everything from micro-sized widgets that connect "this-with-that," to carrier-grade Telecom gear that connects subscribers to service-providers. Patton's specialty is interconnecting legacy TDM and serial systems with new-generation IP-based voice, data, and multi-media technologies.
Headquartered in Gaithersburg, MD, USA, Patton equipment—including VoIP, Ethernet extension, and wireless router technologies—is up-and-running in carrier, enterprise and industrial networks worldwide. Patton works in connection with a growing network of technology, business, and sales-channel partners. To connect with local-market requirements, Patton operates training and support centers in Switzerland, Hungary, Lebanon, India, Vietnam, and the USA.
Patton… Let's Connect!
About ABP Technology
ABP Technology is a Dallas, TX based, value-added distributor of IP Communications products and services marketed throughout North America, Latin America and the Caribbean. The ABP portfolio includes IP phones, IP PBXs, IP peripherals, IP cameras, IP Surveillance Platforms, IP access control, IP video conferencing solutions, as well as IP Infrastructure including routers, switches and fiber optics and wireless solutions for business, industry, data center and carrier space. ABP's clients include a wide-range of channel partners, specialized VARs, Managed Services companies, System Integrators, Carriers and Service Providers, Government Entities and Educational Institutions. For more information, please visit: http://www.abptech.com/.
Media Contacts
snom - North America
John Gates
Elevate Communications
+1 (617) 861–3651
john(at)elevatecom(dot)com
Mike Storella
snom technology, Inc.
18 Commerce Way, Suite 6000
Woburn, MA 01801
+1 (781) 569-2044
mike.storella(at)snom(dot)com
Patton Electronics
Tyler Delin
(240) 912-1239
TDelin(at)patton(dot)com
ABP Technology
Jenny Ngo
Marketing Manager
+1(972) 831-1600 x116
jenny(at)abptech(dot)com
###