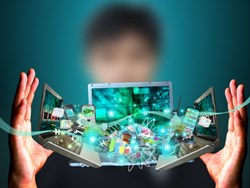 Access to that video through our US server bypasses the problem in just a few clicks.
Dallas, Texas (PRWEB) August 26, 2013
idcloak Technologies launches a high-speed YouTube Proxy Unblocker for Chrome, which provides a quick and easy solution to the georestriction problems commonly encountered on YouTube.
When a user is faced with the message – The Uploader Has Not Made This Video Available In Your Country – he or she may simply copy the video's URL, paste it in the Proxy Unblocker's address field and have the video played from the idcloak page.
Three international servers are available through the unblocker's menu, with the US server proven effective in most geoblock situations.
Robin Welles, idcloak's chief web researcher, explains YouTube's geoblocks as they relate to the idcloak service: "When the geoblock message is displayed, it usually means the uploader has granted domestic viewing only – a decision which could be made for any number of reasons that have nothing to do with the user.
"Due to the high percentage of desirable content placed on YouTube from the US, it tends to be non-US users that suffer. But access to that video through our US server bypasses the problem in just a few clicks."
There are some situations when videos are not available within the US, however. Welles has found this issue is easily solved if the user accesses a regional restriction checker – "It's a free service that tells you which countries a YouTube video is available in. You then just have to choose a server in that country to watch it."
Welles' article, How to Watch Blocked YouTube Videos, links to a free regional restriction checker and provides information on how to use it alongside a proxy.
When users require servers in countries not represented by the YouTube Unblocker proxy, Welles recommends either the software-based VPN coming soon on idcloak.com or the free Elite proxy list. The Elite Proxy List requires the user to paste a proxy IP address and port number into a browser's network settings. Platform-specific instructions are given for this simple task, which requires no special skills or knowledge to perform.
idcloak is a Dallas-based developer of internet proxy services which enhance user privacy, security and freedom.