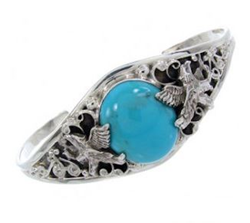 The symbolism behind a turquoise stone creates beautiful works of art and illustrates an important time in history.
(PRWEB) August 23, 2013
Before Southwest turquoise jewelry was created, Native Americans used things like stone, bones, wood and vegetation fibers to make jewelry. From those early days, turquoise jewelry has come a long way in the hundreds of years it was been made.
Now, the new SouthwestTurquoiseJewelry.net explains how Southwest turquoise jewelry was created and its relevance in today's jewelry market.
"It was not until the influence of the silversmiths by the Spaniards that the turquoise jewelry became a history making item in the jewelry industry," said Southwest Turquoise Jewelry spokesperson Rebecca Rouse.
The Native Americans created striking patterns with the way they weaved and forged the metals. These patterns were also woven into Native American clothing. They started using bezels for mass production to hold the precious turquoise stones in place.
"Gold and copper were not a very viable source of metal when creating Southwest turquoise jewelry, so silver became the dominating choice", says Rouse. "Silver seemed to be more acceptable for buyers and the Native American tribes. This has been seen in historic black and white images of the Native American tribal leaders and chiefs who are lavished with Southwest turquoise jewelry."
According to the new site, which takes an in-depth look at the historic pieces, modern turquoise jewelry is more than likely no more than thirty years old. Any Southwest turquoise jewelry older than this is usually found in museums or amongst families of the Indian tribes and is not for sale.
The more modern turquoise jewelry has been purchased at tourist shops as novelties and may not have much of a value. These usually do not have real turquoise stones, but are a recreation using plastic or glass as material. This could be because there aren't many mines that still have turquoise stone in them anymore.
"Turquoise isn't as much an industry as it once was. It's mainly used is for jewelry meant for the December birthstone," says Rouse. "Much of the turquoise Indian jewelry is mainly in use by artists or dealers that deal in special customs jewelry. These jewelry pieces are much more costly."
The symbolism behind the turquoise stone provide beautiful works of art and demonstrates a valuable history. For more information about Southwest turquoise jewelry, please visit SouthwestTurquoiseJewelry.net.