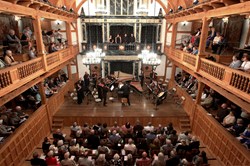 Nonprofit arts organizations leverage a significant amount of event-related spending by their audiences. Attendance at arts events generates related commerce for hotels, restaurants, parking garages, and retail stores.
Staunton, Virginia (PRWEB) August 23, 2013
For nine days during Virginia's peak travel season, Staunton Music Festival is playing to packed houses with twice daily chamber music concerts, plus lectures and workshops.
Attendance at last year's festival hit a record 3,300 and festival organizers say audiences are even larger this year. While this year's numbers are still being tallied, early ticket sales indicate there will be at least a 15% increase in event revenue over 2012.
"It's a rich festival experience, featuring a packed schedule of concerts, two and three per day - all centered in downtown Staunton. It's very rewarding for us to see people traveling here from urban centers like Philadelphia, D.C. and even New York," says Jason Stell, the festival's executive director.
Tourism industry research has repeatedly demonstrated that arts tourists stay longer and spend more than the average traveler. This summer, Americans for the Arts released a new study highlighting the key role of the nonprofit arts and culture industry in strengthening the economy. The data, based on 151,802 surveys, reveals that that the typical arts attendee spends $24.60 per person, per event, beyond the cost of admission. And communities that draw cultural tourists experience an additional boost of economic activity.
The Staunton Music Festival attracts many out of town visitors, as well as groups. For example, the Road Scholar program - an educational and cultural travel organization – sends dozens of people to Staunton for the music festival. "These visitors stay at the Stonewall Jackson Hotel for several nights, dine out, shop downtown, and also see a performance at the Blackfriars Playhouse" says Stell.
"The significance of festivals like this one extends well beyond the immediate economic impact of tourism spending – which is already impressive," says Mayor Lacy King. "In Staunton, the arts mean business. Our arts and culture partners fuel our creative economy and enhance the desirability of Staunton as a place to live and do business."
"You can't buy it. Place capital can only be earned over time," says Bill Hamilton, Director of Economic Development. "It's through the continuing success of our arts partners - like the American Shakespeare Center, The Staunton Music Festival, and Heifetz International Music Institute - that Staunton is winning accolades like one of the 'Best Small Towns in America' from Smithsonian magazine."
"What has worked so well in Staunton is that the private sector, the government and our nonprofit partners are all working together to achieve a common vision," says City Manager Steve Owen.
Direct economic impact is only one measure of how the arts enrich the city of Staunton. The performing arts also add a vibrant quality of place, assist in population retention, and positively influence business recruitment. "Arts are a significant contributor to our community's placemaking and economic development efforts," adds Hamilton.
Staunton Music Festival's 16th summer season runs through Saturday, August 24th. "With the intimate performance venues in Staunton, there are no bad seats," says Stell. Tickets for the evening concerts are available at StauntonMusicFestival.com or by calling (800) 838-3006. Each day at noon there is a free concert, and each evening there is a free lecture followed by a ticketed evening performance. The full festival schedule is available online.
About Staunton, Virginia
In Staunton, you'll get the business advantages you need with the lifestyle you'll love. Known for its history, architecture, and arts and culture, Staunton is one of Virginia's most dynamic small cities. Staunton is centrally located on the East Coast, and offers convenient access to global markets through a comprehensive network of truck, rail and air options. Staunton's relatively lower cost of living and well-educated workforce give employers a competitive advantage. More information at StauntonBusiness.com
About Staunton Music Festival
The Staunton Music Festival entertains, enriches, and engages audiences with a dynamic selection of chamber music, performed by an exceptional group of international and American artists. Carsten Schmidt, the Artistic Director, enjoys a flourishing career with extensive performance and broadcast activities as a chamber musician and soloist with orchestras throughout Europe, North America, and Japan. He has been heard in such venues as Kennedy Center, Carnegie Hall, and the Moscow Conservatory, as well as in broadcasts worldwide. More information at StauntonMusicFestival.com