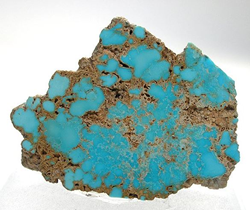 Turquoise is present across the globe, and has been a fine gem for jewelry for thousands of years.
(PRWEB) August 24, 2013
Turquoise mines across the world have produced beautiful turquoise gems for centuries. Turquoise mines have existed for years, and their remnants reveal clues to ancient times. Turquoise was frequently utilized for personal adornment, jewelry and for ceremonial purposes. Turquoise is unique from other gemstones, as its characteristics are unique depending upon its origination.
The new HistoryofTurquoiseMines.com provides visitors with expansive information pertaining to both the history and creation of turquoise gemstones, and dives into the rich history of turquoise.
"Turquoise has been taken primarily from the Southwest, and we intend to provide visitors with lush information regarding Southwest, Egyptian and Persian mines," said History of Turquoise Mines spokesperson Henry Wells.
Archaeologists have located ancient turquoise mining sites across the globe, and have taken great interest in mines discovered within the Southwestern United States. Turquoise mines have been utilized within Kingman, Arizona, which was a popular area for ancient Native American tribes.
While many mines located in the Southwest have been caved in or closed, some mines are still operational, and produce a wide variety of turquoise gemstones. These varieties are the most valuable forms of turquoise existent on the market, and are extracted from operational mines located in Nevada, Arizona, New Mexico and Colorado.
The Ancient Egyptians also operated mines, and frequently adorned their kings and religious personnel with the precious gemstone. To the Egyptians, turquoise was considered a spiritual gem, and its value rivaled gold.
"Turquoise was mined in the Far East for centuries, and has been extracted from the earth before history was even recorded," said Wells. "Historians believe China routinely traded turquoise with the Persians," he says, "and also operated their personal mines in, what is now named, the Hubei province."
The Southwest turquoise mines produce the most beautiful forms of turquoise present in today's markets. They have increased in value within the past two decades, as their supply has dwindled with the closure of Southwest mines. While many mines in the Southwest have been closed, some smaller mines still remain—and continue operations. Turquoise is present across the globe, and has been a fine gem for jewelry for thousands of years.
For more information, please visit HistoryofTurquoiseMines.com.