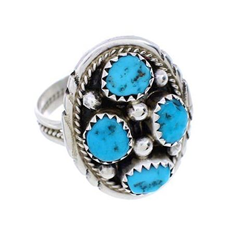 Sleeping Beauty Turquoise has been revered and sought after for generations, and is known for its beautifully pure sky-blue coloration.
(PRWEB) August 25, 2013
Sleeping Beauty turquoise is located within the Southwestern United States, and can also be found in areas within Arizona. Sleeping Beauty turquoise is highly valued, and has made a tremendous impact upon turquoise's extensive history. The stone obtained its name from the mountain it was originally mined from. The mountain, itself, resembles a woman lying upon her back—with crossed arms.
Now, a new website dedicated to the special type of turquoise has been launched.
"The turquoise has been revered and sought after for generations, and is known for its beautifully pure sky-blue coloration," said SleepingBeautyTurquoise.info spokesperson Athena Russell. "The coloration veils any veining and webbing, and makes the stone appear flawless."
The turquoise is still collected from Sleeping Beauty Mine today, and has provided many visitors to Globe, Arizona with both a beautiful stone and lush history. The mine is host to small operations, and its workers continue to process and ship Sleeping Beauty turquoise.
The famous turquoise was originally discovered accidently. Sleeping Beauty mine was opened, and had its copper and gold extracted for trade. Upon extracting these valuable metals, workers stumbled upon the turquoise, and quickly altered operations to mine the blue stone.
Even in rough form, the turquoise is both vibrant and bright, and is considered by Native Americans to be more pristine than the overhead sky.
"It's one of the most prized types of turquoise, and it's used for jewelry and adornment," said Russell. "It's often stable enough to be polished, and can be used in jewelry without ever being treated or stabilized."
Its pure coloration and natural hardness give the stone unique and valuable properties. The stone is sought after by artists and crafters around the world, and is considered an elegant feature of expensive jewelry.
Today, many public retailers and wholesalers visit Sleeping Beauty Mine to obtain the beautiful stone, and—if the stone's history provides correct indication—will continue to do so until the mine has been emptied. Arizona's current mining operations produce enough turquoise to meet commercial demand, but the turquoise itself might be diminished within several decades.
"New forms of turquoise are routinely discovered, but none has rivaled the beauty of Sleeping Beauty Turquoise," said Russell. "The turquoise, itself, is a gem of the Southwest, and continues to awe artists."
For more information, please see SleepingBeautyTurquoise.info.