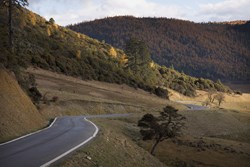 "In order to meet the conservation challenges of the future, we need more unique engagements like this one," said M. Sanjayan, lead scientist for The Nature Conservancy.
Milwaukee, WI (PRWEB) August 26, 2013
The Nature Conservancy and Harley-Davidson Motor Company are teaming up to kick off Renew the Ride™ – a global initiative to help preserve the environment through Harley-Davidson's community of riders, dealers and supporters in their conservation efforts. Launched in conjunction with the company's 110th Anniversary celebration, Renew the Ride will help ensure that future generations of riders and outdoor enthusiasts are able to enjoy nature's beauty for years to come.
As part of this initiative, Harley-Davidson is supporting The Nature Conservancy's work in the Atlantic Rainforest of Brazil by helping to plant 110,000 trees through the Plant a Billion Trees Campaign. Brazil's Atlantic Forest is one of the world's most fragile and important ecosystems, harboring thousands of species found nowhere else on the planet. Today, this region is facing unprecedented challenges due to urban expansion, agriculture, ranching and illegal logging. The support from Harley-Davidson will help advance the Conservancy's restoration work in critical headwaters that help to secure clean water for more than 70% of Brazil's population.
"Our riders have always had a passion for the great outdoors," said Mark-Hans Richer, Harley-Davidson's Senior Vice President and Global Chief Marketing Officer. "The opportunity to work with The Nature Conservancy was a natural fit as we make strides to improve our sustainability efforts and ensure that future generations will be able to enjoy the freedom to ride and enjoy our beautiful natural surroundings."
To commemorate the collaboration, The Nature Conservancy will join Harley-Davidson at the 110th Anniversary celebration in Milwaukee, home of the Harley-Davidson headquarters, to kick off the partnership with outreach to Harley-Davidson's members.
"We are happy to be working with Harley-Davidson and the Renew the Ride™ initiative," said M. Sanjayan, lead scientist for The Nature Conservancy and an avid motorcyclist. "In order to meet the conservation challenges of the future, we need more unique engagements like this one. Protecting the lands and waters on which all life depends is our mission, and working with companies like Harley-Davidson – with a devoted member base and real interest in supporting conservation – will aid us in achieving this mission."
With an extremely loyal following, Harley-Davidson riders have long had a strong connection to the outdoors and, individually, many support environmental organizations with volunteer work and donations. As an organization, sustainability is key focus for Harley-Davidson—along with growth, leadership development and continuous improvement.
The Renew the Ride™ journey begins here, but will take to streets around the world as dealers announce local motorcycle events and fundraising initiatives aimed at supporting nature conservation.
About The Nature Conservancy
The Nature Conservancy is the world's leading environmental conservation organization working around the world to protect ecologically important lands and waters for nature and people. Founded in 1951, The Nature Conservancy works with individuals, governments, local nonprofits, indigenous and traditional communities, corporations, and others to protect forests, grasslands, rivers, coral reefs and more. To date, The Nature Conservancy and its more than 1 million members have protected nearly 120 million acres worldwide. Visit The Nature Conservancy on the Web at nature.org.
About Harley-Davidson, Inc.
Harley-Davidson, Inc. is the parent company of Harley-Davidson Motor Company and Harley-Davidson Financial Services. Harley-Davidson Motor Company produces heavyweight custom, cruiser and touring motorcycles and offers a complete line of Harley-Davidson motorcycle parts, accessories, riding gear and apparel, and general merchandise. Harley-Davidson Financial Services provides wholesale and retail financing, insurance, extended service and other protection plans and credit card programs to Harley-Davidson dealers and riders in the U.S., Canada and other select international markets. For more information, visit Harley-Davidson's Web site at harley-davidson.com.