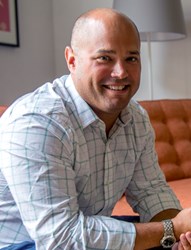 New York, NY (PRWEB) August 26, 2013
PureWow announced today that Kevin Stetter has joined the company as senior vice president of sales & operations. Stetter will be responsible for continuing the growth of PureWow's sales department as it produces custom campaigns for a variety of the world's leading brands.
"This is an exciting time for PureWow and we are thrilled to bring Kevin on board to help reach our goals while focusing on revenue and operations," said Ryan Harwood, CEO of PureWow. "The demand for content creation abilities like ours is high and Kevin's experience in digital will allow us to scale the business even further."
Stetter has more than 10 years experience in ad sales with a focus on digital. He spent nearly a decade at Gannett Co. and Philadelphia Media Holdings helping the brands manage growth as the media industry's focus shifted from print to digital. At Gannett, Stetter was the company's first online sales manager for Asbury Park Press – the fifth largest newspaper property within its parent company. He was also a key part of the strategic management team, providing key insights to Gannett corporate. At Philadelphia Media Holdings, Stetter was responsible for the development and execution of company-wide digital sales strategy and the accountability of the sales and operations teams.
Prior to PureWow, Stetter was vice president of agency and brand relationships at Medialets, a mobile technology platform specializing in ad serving and rich media. Stetter was instrumental in increasing Medialets revenue five-fold in less than eight months and he also designed and developed processes to ensure campaign efficiency.
At PureWow, Stetter will work with VP of Sales Courtney Howell to build on the company's already successful partnerships with advertisers like Hyatt, Diageo, Kraft, L'Oreal & Patron. He will help to foster new relationships and continue PureWow's focus on custom, native ad campaigns. Stetter will also utilize his experience in mobile to further expand PureWow's custom content across all platforms, including email, web, mobile and social.
"PureWow's passion and focus on its core products is impressive and very admirable," Stetter added. "The organic growth the company has experienced in the past couple of years is a testament to the product's unique position in the market. I am thrilled to be a part of such a smart and driven group and look forward to helping the company get to the next level."
About PureWow
PureWow is a digital media company that specializes in women's lifestyle content. Driven by its motto, "Elevate the Everyday," PureWow covers everything from fashion & beauty to food, travel, home, tech, books and culture. Readers can check out PureWow's latest under-the-radar discoveries at PureWow.com or sign up to get PureWow's emails. PureWow editions include: National, New York, Los Angeles, San Francisco, Chicago, Dallas, Hamptons, Recipes and Books & Authors.
PureWow is backed by the Pilot Group, which has developed several successful daily email publications, including DailyCandy and Thrillist, and by the women of wowOwow.com, including Whoopi Goldberg, Joni Evans, Mary Wells Lawrence, Lesley Stahl, Candice Bergen and Liz Smith. Brands that advertise with PureWow include Bloomingdales, Kraft, PepsiCo, Cadillac, Cartier, CBS, Chase, Starbucks, Wells Fargo Smuckers, Toyota, and Hyatt.