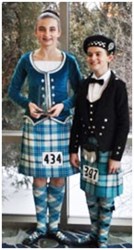 We're happy being flexible to travel, but we also want her to be challenged.
Westlake Village, CA (PRWEB) August 25, 2013
Oaks Christian Online High School (OCO) freshman Megan Watson won the U.S. Inter-Regional Championship for Highland Dancing in the over 14 and under 16 year-old, Premier category in Scottsdale, AZ, in July of this year. She won last year also for the 12 to 13-year-old category. These wins allow Megan to travel to Scotland to qualify for the World Championship at the Cowal Highland Gathering. When Megan traveled to Scotland last year, she qualified to dance in the World Championship, and she's going to try and repeat the experience this year. "It's an honor just to qualify at that level," Megan says. She plans to compete in several smaller competitions in Scotland the week before the qualifying meets of August 30th and 31st. The event that was first held in 1894 draws more than 23,000 spectators and participants from all over the world and includes pipe bands, wrestling, heavy athletics, drum majors, ceilidh music, children's entertainment, and local food. Megan has also found friendships with other dancers from all over the U.S. at the different competitions this year and is looking forward to reconnecting with them as well as qualifying to dance again at the international competition level with girls from all over the world.
Megan has been dancing since she was 3 ½ years old. She dances along with her brother who was the runner up for national champion last year in his age group as well. Megan and her brother study dance at the Sharon Farrar School of Dance in Bell Canyon, CA. They also both play the bagpipe. Although Megan's brother competes in piping, Megan enjoys just playing for her own enjoyment. Both of Megan's parents had grandparents from a small village in Scotland, and Megan's mom also teaches highland dance at the Gille Calluim Highland School of Dance.
Megan has been homeschooled for the last three years and although she enjoyed the flexibility, her mom is excited for her to be part of a school environment with other students and to be on a higher educational track with a spiritual emphasis. "We're happy being flexible to travel, but we also want her to be challenged," mom says. While Megan is excited and anxious about high school in general, she has made the transition to high school easier by taking an online summer high school class with OCO. "I know what to expect for next school year because I took online Health this summer. It was a great way to get started and to reduce stress as I get ready to travel to Scotland," Megan says.
The main campus of Oaks Christian School in Westlake Village, CA opened in the fall of 2000 and Oaks Christian Online School (OCO) opened for full-time, online students in the fall of 2011. The online high school provides a rigorous and challenging college preparatory education for high school students all around the world in a Christian environment. Oaks Christian Online School continues to enroll part-time and full-time students throughout the school year and regularly hosts information sessions on its main campus – 31749 La Tienda Drive, Westlake Village, CA 91362, as well as virtual information sessions for prospective student families. Interested students can visit the website http://online.oakschristian.org to R.S.V.P.
For additional information about Oaks Christian Online School, its courses, curriculum, admissions or application process, please visit http://online.oakschristian.org, call 855.462.6257, or contact a school representative at online(at)oakschristian(dot)org.