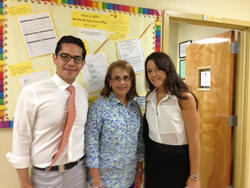 In order to market your business or your self in any generation, the key is to adapt to and make an effort to blend current technology and trends into your approach and use them to increase awareness.
Hialeah, FL (PRWEB) August 26, 2013
This past Thursday, Optimum7's Social Media and SEO Specialist, Lucia Sastre, and SEO Marketing Specialist, Jose Vera, travelled to Florida National University's (FNU) Hialeah campus to explain why faculty members and staff should get personally involved in social media and how to set up and use their various accounts.
In the beginning of the presentation, Vera explained to a group of approximately 60 faculty members and staff that the main reasons why Optimum7 advocates involvement in social media are to build their individual authority, create transparency and credibility, and to increase exposure for their body of work.
To build authority, Sastre urged professors and other staff members to publish multimedia content, research papers, and case studies relevant to their field. By publishing these works and sharing them on social media, they would be creating a foundation of expertise and authority within their niche. She also explained that by building their individual authority, they would be building the overall authority of the school.
Sastre asked her audience to Google their names to see what kind of results people would find if they performed the same search. Was it their genuine personality or was it irrelevant to them and their work? By continuously publishing content and building their authority, the members of her audience would become more prominent in their field of work and study.
She also explained that by showcasing their experience and body of work through social media, prospective students would be more inclined to seek them out as a professor after seeing their content and profiles on social media. It would reinforce their transparency and credibility while going a long way to show how involved the professors and staff are in their field.
To increase the exposure of their work beyond their colleagues and students, Sastre suggested Google+ Communities and LinkedIn Groups as a way to share information with individuals who would be most interested and able to use their content in unique ways. With many group and community populations of 21,000 members or more, she emphasized the importance of leveraging these platforms to increase exposure in a meaningful and relevant way.
For those who were unfamiliar with these newer platforms, Sastre gave an overview of each one, explaining that LinkedIn is best used for professional networking, finding experts with similar interests, and sharing professional research and opinions; that Google+ is a great platform to use when promoting a personal blog and driving traffic to it, while getting involved in niche and location based communities; and that Twitter was the best platform to use when sharing time-sensitive content. She also explained how to use strategic hashtags to maximize content exposure.
After providing step-by-step instructions on how to set up an account on each of these platforms and copies of her presentation, Sastre held a Q&A session where she was asked how to use and obtain LinkedIn endorsements, and whether Harvard and Yale were using social media for the same purpose.
In a candid interview, Sastre explained, "Yes, they are using social media in this fashion. In order to market your business or your self in any generation, the key is to adapt to and make an effort to blend current technology and trends into your approach and use them to increase awareness."
She said that the staff at Florida National University were extremely receptive to the necessity of social media, having been previously unaware of its power to increase personal and brand exposure. "They were so polite and attentive. I was really impressed by the way everyone embraced the idea and asked questions. I believe this will open the doors to FNU's online reputation in the future, having the potential to boost their authority and give people insight into their credentials."
Optimum 7 is a highly consultative, full service Internet Marketing company with offices in Morristown, New Jersey and Miami, Florida.
###
For more information on this presentation or social media strategy, or to schedule an interview, please contact Lucia Sastre at (305) 477-8960 or lucia(at)optimum7(dot)com.