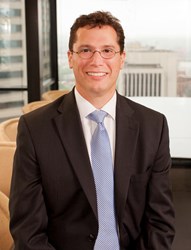 "Steve's experience ranges from mergers and acquisitions to data privacy, and we're glad to have him join our firm." Charles Bone, Chairman, Bone McAllester Norton PLLC
Nashville, TN (PRWEB) August 26, 2013
Steven E. Blumenthal, former General Counsel for Carfax, Inc., has joined the law firm of Bone McAllester Norton PLLC. He practices in the areas of Business and Corporate Law, Banking and Financial Services, Commercial Lending and Creditors' Rights and Entrepreneurial and Emerging Business Law.
"Steve is a valuable addition to our team," said Charles W. Bone, founder and chairman of Bone McAllester Norton. "His experience ranges from mergers and acquisitions to data privacy, and we're glad to have him join our firm."
Mr. Blumenthal's practice includes both traditional and commercial transactional work and innovative Internet, technology and data privacy work. As the General Counsel for Carfax, he managed all of the company's legal affairs, including intellectual property matters, litigation and employee matters, and he had a key role in the recent sale of Carfax to IHS Inc. Earlier in his career, he was an equity partner with Dow Lohnes PLLC, where he represented clients like Cox Communications and AutoTrader.com
Mr. Blumenthal has authored articles for the Wall Street Journal and ACC Docket and other publications, covering topics such as software licensing, television advertising and consumer lending.
He is a native of Memphis. He received his bachelor's degree from Tulane University and his Juris Doctor degree from the University of Virginia Law School. He and his wife live in Franklin with their daughter.
ABOUT BONE MCALLESTER NORTON PLLC
Bone McAllester Norton PLLC is a full-service law firm with 36 attorneys and offices in Nashville and Sumner County, Tennessee. Our attorneys focus on 17 distinct practice areas, providing the wide range of legal services ordinarily required by established and growing businesses and entrepreneurs. Among our practices, we represent clients in business and capital formation, mergers and acquisitions, securities matters, commercial lending and creditors' rights, commercial real estate and development, governmental regulatory matters, commercial litigation and dispute resolution, intellectual property strategy and enforcement, entertainment and environmental matters. Our client base reflects the firm's deep understanding and coverage of today's leading industry and business segments. For more information, visit http://www.bonelaw.com.
Contact: Elizabeth Fielding 615.321.3110