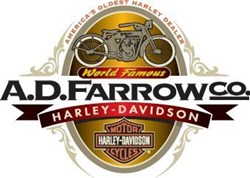 Columbus, OH (PRWEB) August 23, 2013
The 110th Anniversary of the venerable Harley-Davidson Motor Company is set to take place Labor Day Weekend. The Milwaukee based company is planning a series of events that are sure to be crowd pleasers with concerts by Kid Rock, AeroSmith, and Toby Keith.
A.D. Farrow Co. Harley-Davidson, America's Oldest Harley Dealer, plans to send off American Iron Honor Ride eastern riders from its NorthStar location on the morning of August 26th, 2013. The American Iron Magazine has successfully organized rides to Milwaukee for previous Harley-Davidson anniversaries and has chosen A.D. Farrow Co. to be the starting point for the East route. The magazine reports, "This year we actually be doing two free rides, an East leg and a West leg that will meet up and roll into Milwaukee together. Those coming from the East will join Editor in Chief, Buzz Kanter, at A.D. Farrow Co."
A.D. Farrow Co. will host a catered welcome reception on Sunday, August 25th for the group at 2pm and will then provide coffee and donuts for the group's departure for the dealership at 10am Monday morning.
For Harley enthusiasts not making the trek to the motherland, A.D. Farrow Co. will be celebrating the 110th in their own way at their Columbus, OH Downtown store. As celebrations occur in Milwaukee on Saturday, August 31st, A.D. Farrow Company's in house history buff with be divulging the history of Harley-Davidson and the history of A.D. Farrow Co. At the end of the company's 12th "Know-It-All" Session of the summer, they plan to fire up a 1912 Harley-Davidson. The year 1912 has great significance to A.D. Farrow Co. as it is the year the company was established.